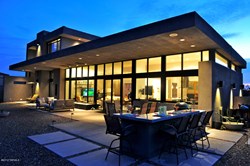 Tucson, Arizona (PRWEB) January 09, 2014
Modern Home Tours makes its first visit to the Grand Canyon State with the premier Tucson Modern Home Tour on Sunday, January 19th.
Modern Home Tours are self-guided driving tours that give local architects a day in the spotlight. At each stop, tourgoers get the rare opportunity to explore the inside and out of four to six of their area's most amazing private residences. For the architects whose work is on display, it is a live city-wide gallery of their cutting-edge designs; for homeowners, it is a unique chance to share their lovingly crafted modern living spaces; and for ticket-holders, it's a day of neighborhood exploration and visual awe.
During the Tucson Modern Home Tour, tourgoers will see a unique collection of private homes in and around the Tucson area, including:

A contemporary work of art by FORS Architecture + Interiors in Oro Valley that features a fireplace built into a wall of windows and an impressive 2nd story 360° view.
A fantastic modern take on Hacienda design by Kevin Howard in Marana that features amazing landscape design (complete with custom pool, spa and water features) by Solana Outdoor Living.
The Tucson Mountain Lava Retreat, a gorgeous modern home on the eastern side of the Tucson Mountains, designed by Paul Weiner of DesignBuild Collaborative, which features panoramic landscape views and giant, crushed volcanic cinder (scoria) walls.
The Tucson Mountain Rammed Earth Compound, a second home by Paul Weiner of DesignBuild Collaborative, which is a stunning display of ancient, timeless and true materials (clay) being shaped and designed into a modern structure.
A second Marana home by Kevin Howard that features views of The Gallery Golf Club course and a custom water table that adds the tranquility of water but with a clean Zen approach (by Solana Outdoor Living).
The Tucson Modern Home Tour is the kick-off for the group's 2014 Winter/Spring National Tour, which covers 11 cities from January to June. As a special promotion for the first time in Tucson, tickets have been discounted from their usual price.
Participating homes in the first Tucson Modern Home Tour will open their doors for viewing on Sunday, January 19th, from 11AM – 5PM. Tickets to attend and see every home on the tour are $25 in advance online; they are available for $30 on the day of the tour at all home locations. The tour is self-guided; all are invited to attend. Kids under 12 can accompany their parents for free.
For more details and a current list of homes on the tour, visit http://modernhometours.com/event/tucson.
About Modern Home Tours, LLC: Based in Austin, Texas, Modern Home Tours, LLC was founded by partners James Leasure & Matt Swinney in 2010 to introduce modern architecture and modern living to people throughout the world. Through fun and informative tours in dozens of cities across North America, the group invites people into some of the most exciting examples of modern architecture and design that can be found. With carefully selected architects, neighborhoods and living spaces, a Modern Home Tour is unlike anything you've ever seen. Not only will you learn about the very latest in home design while on our tours, but you might even get an idea or two for your next home project.