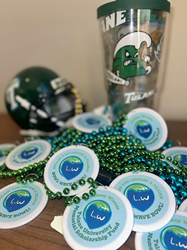 My family and I are grateful for this expression of love and kindness in Lindsay's memory. We are especially grateful that the Tulane community will be together on Tuesday to remember our daughter on her birthday.
ARLINGTON, Texas (PRWEB) December 30, 2022
In August of this year, the Wiener family suffered the most horrific loss that a family can experience. The loss of their own.
While on a family vacation in the Hamptons, N.Y., a tragic fire at a rental home took the lives of Lindsay Wiener, 19 and Jillian Wiener, 21. Older brother Zachary was able to escape through a second-floor window. Parents Lew and Alyssa were also able to escape, although with minor injuries.
The family had gathered for what they thought was a family vacation with their father, Lew, who had recently been diagnosed with inoperable pancreatic cancer.
The loss of the sisters was not only tragic for the family, but also for their community in Potomac, MD. The Wiener family is well-known and well-loved, as reflected in the tremendous outpouring of support they received. More than 20,000 people virtually attended the joint funeral of the Wiener sisters, with 3,000 attending in person.
And that support will continue at the Cotton Bowl on January 2nd. During the game between the Tulane Green Wave and the USC Trojans, thousands of friends, Tulane students and alumni and Tulane University President Mike Fitts will be wearing custom made Mardi Gras-style beads to celebrate the lives of the two young women.
Lindsay was going to start her sophomore year at Tulane University in the fall.
"The only thing more improbable than the Green Wave being in the Cotton Bowl is that Lindsay Wiener will not be at the game on what would have been her 20th birthday," said Rob Bindeman, 1991 graduate of Tulane University and friend of the family. "This was the most "Tulane way" we could honor Lindsay, her sister Jillian, and the Wiener Family to celebrate Lindsay at the game and highlight the Scholarship Fund created in her memory"
Jillian Wiener was about to begin her senior year at the University of Michigan, where she studied environmental science.
In addition to the honor at the Cotton Bowl for the family, the University of Michigan has announced that they will honor Jillian at the 2023 graduation ceremonies with a posthumous degree.
Lew Wiener is the president of Washington Hebrew Congregation in Washington D.C., and a former federal prosecutor. "My family and I are grateful for this expression of love and kindness in Lindsay's memory., said Mr. Wiener. "We are especially grateful that the Tulane community will be together on Tuesday to remember our daughter on her birthday."
The Lindsay Wiener Memorial Scholarship Fund has been established at Tulane University in memory of Lindsay Wiener at http://www.giving.tulane.edu/wiener
Contributions in Jillian's memory can be made to http://www.coralgardeners.org