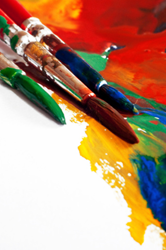 This is a fabulous venue for the Designer Showcase! Each year an architecturally significant home is selected for the showcase, and each year there is a different theme
Tulsa, OK (PRWEB) May 13, 2014
The 2014 Tulsa Designer Showcase took over the stunning art deco 1937 Sherman Estate to bring the best designers in the Tulsa area under the same roof. Prudential Detrick Realty's Sally Jo Dierker volunteered at the event, mingling with top designers and innovators who all brought together ideas and trends centered around art deco design.
The Sherman Estate was built by Howard Sherman and still remains to be one of the most iconic depictions of the Art Deco Movement in Tulsa. The home stretches 7,000 square feet featuring four bedrooms, seven bathrooms, four fireplaces, seven living areas, three staircases, a three-car garage, guest quarters and a pool.
The stunning home served as inspiration for home owners, real estate agents, designers and suppliers.
"One thing I found particularly interesting was the popularity of the concrete floors," Sally Jo says. "Eyes were just drawn to the floor. Some people just paid for admission just to take a look at the amazing floor overlays."
They were designed by Paul DeAngelis of Architectural Concrete Technologies. From doing work at the Orlando, Florida Epcot Center World Attractions to backyards to kitchens, the concrete can embody anyone's style. Professionally stamped concrete floors can look like anything from perfectly paved stone to high-gloss, modern flooring.
The Designer Showcase isn't just about home design either. Sponsors of the event support the Foundation for Tulsa Schools, a community-based organization that has invested more than $11 million in educational initiatives to improve the education system in the region. Volunteers, designers and attendees raised awareness and offered their support to the organization.
"This is a fabulous venue for the Designer Showcase! Each year an architecturally significant home is selected for the showcase, and each year there is a different theme," says Sally Jo. "This was the first designer showcase I helped with and I can't wait to experience it again next year!"