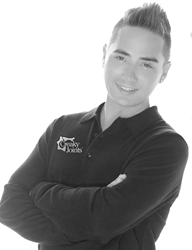 Los Angeles, CA (PRWEB) August 18, 2016
Tumbler and Tipsy by Michael Kuluva announced today that designer Michael Kuluva, after 6 years of privately battling Rheumatoid Arthritis (RA), has teamed up with a leading patient advocacy organization, CreakyJoints, for the inspiration behind Tumbler and Tipsy's Spring/Summer 2017 runway collection at Kia STYLE360 New York Fashion Week on September 13, 2016.
Designed with Meaning
Presented by CreakyJoints®, the world-wide online patient community for people with all forms of arthritis, the new collection, "Creaky and Tipsy" is directly influenced by the designer's personal experience with the disease. The new collection will feature looks highlighting key arthritic focal points on the body, while staying true to the Tumbler and Tipsy brand with bold colors, funky embellishments and playful designs.
"For our new Spring/Summer 2017 Tumbler and Tipsy collection, I wanted to partner with an organization that was close to myself and my family's heart. Since becoming a part of the CreakyJoints family, I have been inspired to learn more about my RA, and continue to lead an active and productive life despite the diagnosis. To highlight and celebrate this, we partnered with CreakyJoints for New York Fashion Week," says Michael Kuluva, designer of Tumbler and Tipsy. "As someone who has been diagnosed with Rheumatoid Arthritis (RA), I wanted this collection to highlight my own personal experience, while also bringing awareness to such a debilitating disease and the goal of living successfully, despite it."
"Michael Kuluva exemplifies our organization's mission to empower people living with arthritis, and to not set limits on their aspirations or goals, simply because they are also managing a chronic disease," said Seth Ginsberg, President and Co-founder of CreakyJoints. "We're thrilled to support the 'Creaky and Tipsy" collection and Michael as his journey progresses. Plus, 'looking good is feeling good', and Creaky and Tipsy looks great!"
After taking the world by storm, one sequin at a time, Tumbler and Tipsy has set itself apart from other fashion brands by being the first to ever collaborate with the No. 1 dance video game, "Just Dance 4", in creating exclusive looks for their runway show in 2012. With a celebrity fan base strutting previous Tumbler and Tipsy runway shows such as Kendall Jenner, Olympic Gold Medalist Alex Morgan, Perez Hilton, Johnny Weir, Jill Zarin, Rick Genest "Zombie Boy" and many other well known public figures, the launch of the new "Creaky and Tipsy" collection will sure to be one of the highlights of New York Fashion Week.
This Tumbler and Tipsy Spring/Summer 2017 New York Fashion Week runway show is proudly presented by CreakyJoints, La Pierre Nail Polish, Ellie Shoes, American Hat Company and Bloke NYC.
The Tumbler and Tipsy by Michael Kuluva runway show will take place at 7:30PM on September 13, 2016 at Kia STYLE360 "Met West" 639 W 46th Street New York, NY.
For more information visit http://www.style360nyfw.com.
About Tumbler and Tipsy
Anchored by the creative mind and brilliant talents of professional figure skater turned fashion designer, Michael Kuluva, Tumbler and Tipsy is not only reworking, redefining and revamping the world of fashion but is taking it over with his sexy yet stylish brand. Tumbler and Tipsy is produced in Los Angeles, CA with colorful collections that are distinctive but never repetitive, chic and classy while being comfortable and versatile. Tumbler and Tipsy is not just a line of clothing, it's a collection of art, it's an embodiment of chic fashion in the modern world, and it's a representation of a lifestyle: fun, bold, luxurious and daring. http://www.tumblerandtipsy.com
About CreakyJoints
CreakyJoints®, now in its 17th year, has evolved into the go-to source for more than 100,000 arthritis patients and their families world-wide who are seeking education, support, advocacy and patient-centered research. Co-founded in 1999 by arthritis patient Seth Ginsberg and social entrepreneur Louis Tharp, CreakyJoints is part of the Global Healthy Living Foundation, whose mission is to improve the quality of life for people with chronic illness. For more information and to become a member (for free), visit http://www.CreakyJoints.org.
About Rheumatoid Arthritis
Rheumatoid Arthritis (RA) is a chronic inflammatory disease that causes pain, stiffness, swelling and loss of function in the joints throughout the body, but typically the small joints of the hands and feet. RA can strike at any age and if left untreated, can cause joint damage and even permanent joint destruction or harm to the body's organs. RA is an autoimmune disease that is treated typically by a specialist called a rheumatologist.
About LaPierre Nail Polish
LaPierre Nail Polish, a luxe beauty brand established in New Orleans, LA. Providing a full range of traditional, sophisticated and chic nail polish colors. Inspired by the founder's mother who unfortunately lost her battle with cancer in 2014, LaPierre is the official sponsor to the LIVESTRONG foundation. LaPierre's echo-friendly, vegan lacquers are cruelty free and non-toxic. Our five-free chemical polishes eliminate the use of harmful properties without sacrificing luxe quality or long lasting performance. http://www.lapierrecosmetics.com
About Ellie Shoes
Ellie Shoes manufactures a wide variety of sexy shoes, and is most noted for its unique designs and its wide selection of heel heights. Since its inception in 2000, Ellie Shoes has had two goals: to be the best shoe manufacturer in quality and design for alternative footwear, and to bring sexy shoes to the mass market. Currently, Ellie offers three collections including Ellie Shoes, Bettie Page® Shoes and 1031 Halloween Footwear. http://www.ellieshoes.com
About American Hat Makers
You've found Head'n Home, makers of exceptional artisan hats. We deliver everything you expect in premium leather products - unsurpassed quality in construction and materials with a personal touch only available in handmade works. Designed and built in our shop in Freedom, CA, each piece is distinctive, like a work of art. Our leather is 100% American raised and tanned. From traditional cowboy hats and lightweight leather and mesh beauties to our retro-future steampunk hats, our range of styles is certain to surprise, intrigue and delight you. http://www.americanhatmakers.org
About Bloke NYC
Bloke by Christopher Valiante is the renowned new talent in the fragrance industry. With new innovations, Bloke has been selling internationally in high end retailers in countries such as Australia, New Zealand, Singapore plus across the United States. Valiante's men's fragrance and skin care line has won numerous awards around the world and is expanding with new innovative fragrances this upcoming season! Just one last question, which Bloke are you? http://www.blokenyc.com
##
Contact
All press inquiries:
Christina Rice
LuxeLife Media
Christina(at)LuxeLifeMedia(dot)com
646-373-8634