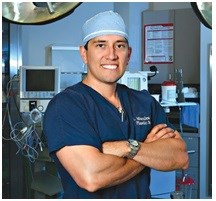 I'm dedicated to helping you find your dream figure.
Houston, TX (PRWEB) January 13, 2014
Genetics may be only part of the reason for the look of aging on a person's face; stress, divorce and antidepressants can also age a person significantly, according to a recent study. This study, published in Plastic and Reconstructive Surgery, the journal of the American Society of Plastic Surgeons, confirmed the beliefs of Dr. Rolando Morales of the Aesthetic Center for Plastic Surgery.
The study highlights something that Dr. Morales has explained to his patients for years: not all of the factors that age one's face are obvious or simple. For example, twins who have lived different life experiences have different perceived ages. Factors such as divorce, anti-depressants and weight can have an effect on a person's perceived age.
"Most of us instinctively know about things like smoking and the effect it can have on aging, but other less obvious factors, such as the stress of divorce and the use of anti-depressants, can also change a person's apparent age," said Dr. Morales. "At my office, I see people every day that have experienced life and, unfortunately, it shows on their faces. "
Through the use of cutting edge techniques, Dr. Morales is able to erase the signs of aging and return a natural and youthful look to anyone.
"Life's circumstances shouldn't prevent you from looking the way you want," he said.
More information on Dr. Morales' solutions is available on his website at http://www.drmoralesplasticsurgery.com/.
About the Company:
Dr. Rolando Morales is a reconstruction and plastic surgeon for the Aesthetic Center for Plastic Surgery. As an experienced and ambitious plastic surgeon, Morales consistently produces excellent results and provides the level of safety, care and attention his patients expect and deserve. As a member of ACPS's team, Dr. Morales believes in cultivating a culture of care and compassion, offering interactive care and consultations, presenting clients with a wide range of treatment options, practicing frank and honest disclosure and upholding complete doctor-patient confidentiality. Dr. Morales specializes in treatments for the eyelids and face, as well as breast lift, breast augmentation and reduction, body enhancement procedures, plastic surgery for men. Face treatments include facelifts, brow lifts, rhinoplasty and blepharoplasty. Body treatments include tummy tucks, liposuction, body lifts and arm lifts. Additional information can be found at http://www.drmoralesplasticsurgery.com/.