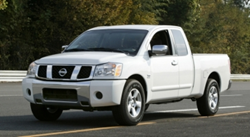 Our Toyota truck parts inventory has now been upgraded to feature original gearboxes that are a direct fit for the 1999 to present models
Indianapolis, IN (PRWEB) September 30, 2015
The Tundra is one of the most popular pickup trucks produced in the past decade at the Toyota company with sales increasing annually. The Car Parts Locator company is now able to provide Toyota Tundra 4WD used transmissions from its revised truck inventory that is provided online at http://www.carpartslocator.com/tundra-transmission-4wd-used.
The gearboxes that are now supplied are used OEM units that are provided from some of the scrap yards and dismantlers that have joined the CPL network since the start of this year. The 4WD components inventory does include 4-speed, 5-speed and 6-speed models that are offered in automatic or manual controlled versions.
"Our Toyota truck parts inventory has now been upgraded to feature original gearboxes that are a direct fit for the 1999 to present models," said one CarPartsLocator.com source.
Based on national averages, the testing of used condition components is not always offered through some suppliers due to time or budget constraints. The CPL company has instituted a new policy regarding testing of its used auto parts for sale to ensure a much higher level of quality is provided to the public.
"All used Toyota transmissions that we are selling this year have undergone several tests to make certain that sensors, gaskets and seals are in good condition," said the source.
The Car Parts Locator website inventory is now displayed to consumers who research specific parts in real time. Instead of using an outdated price list, the company processes all price changes automatically to keep the linked database on the company homepage more accurate.
About CarPartsLocator.com
The CarPartsLocator.com company helps salvage companies to retail thousands of used components for vehicles through its web portal on the Internet. The company launched in 2012 and adds more partners each year. The CarPartsLocator.com company has a fully searchable inventory for consumers who need to find parts built between 1980 to the present year.