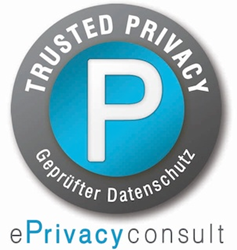 Seattle, Washington (PRWEB) January 20, 2015
TUNE (http://www.tune.com), the enterprise SaaS for mobile marketing company behind the products MobileAppTracking (MAT), MobileDevHQ (MDHQ), and HasOffers, today announced it has provisionally earned the ePrivacyseal following a rigorous technical and legal review certifying that TUNE's technology platform complies with the strict standards established by German federal data protection law and EU privacy regulations. The ePrivacyseal is administered by ePrivacyconsult, an independent certification provider for the EU Self-Regulatory Program on Online Behavioral Advertising (OBA), focusing on digital media businesses in Germany and Europe.
"We wanted to show our commitment to the specific data and privacy requirements of Germany and the EU," said Peter Hamilton, CEO of TUNE. "So we looked for the most reputable certification process we could find to provide a strict examination of our technologies, and the ePrivacyseal is the clear leader and a trusted standard across Europe. I'd like to give a big thanks to our Chief Privacy Officer, Saira Nayak, for making ensuring that TUNE remains compliant with all of the different privacy and security requirements in the countries we do business in, including Germany."
With clients in 150 countries, 33% of TUNE's revenue today comes from the EMEA region, where the company has growing offices in Berlin, London, and Tel Aviv. The MobileAppTracking (MAT) by TUNE product today provides attribution for more than half of the top grossing apps in the iTunes and Google Play stores. Clients such as GoodGame Studios, Aeria Games, XYRALITY, Sephora, Supercell, LINE, Gilt, JackThreads, UBER, Gumi, eBay Korea, and more use MAT to measure the performance of their mobile app marketing world wide.
"We recognize the ePrivacyseal's importance in signifying to clients, consumers and partners, that our practices are compliant with German and EU standards," said Saira Nayak, Chief Privacy Officer at TUNE. "Along with our data pledge, which assures clients they will always maintain full control and ownership of their data, the ePrivacyseal evidences TUNE's deep commitment to data privacy and protection."
# # #
ABOUT ePrivacyconsult
ePrivacyconsult is an independent certification company focusing on digital media business in Germany and Europe. The offerings from ePrivacyconsult include a broad range of certification services: ePrivacyseal, privacy evaluations, OBA Framework certification, targeting quality certification and separate privacy consulting. The services are provided in all fields of digital media including websites, mobile applications, advertising, cloud services and Online Behavioural Advertising (OBA).
Working with ePrivacyconsult companies in Germany and Europe achieve competitive advantages via actively dealing with all challenges of data protection and data security. Furthermore, ePrivacyconsult advises companies on all digital data protection issues and coordinates discussions with official privacy authorities. ePrivacyseal is a data privacy seal which is awarded to companies or products for compliance with high standards of data privacy designed to comply with strict German Federal Data Protection law and EU Privacy regulations.
ePrivacyconsult was founded by an expert team under the lead of Prof. Dr. Christoph Bauer, all experts having very high know how and long term experience in the data protection and privacy sector. (http://www.eprivacyconsult.com).
About TUNE
TUNE is the Seattle-based enterprise Software-as-a-Service (SaaS) for mobile marketing company behind the products MobileAppTracking (MAT), MobileDevHQ (MDHQ), and HasOffers. With a mission to make mobile marketing better for everyone, TUNE builds SaaS products to help marketers manage both their paid and organic campaigns. Named to the Inc. 500 fastest growing companies two years running in both 2013 (#63) and again in 2014 (#88), and listed as a top 10 mobile advertising company by VentureBeat, TUNE is backed by Accel Partners (investment led by Rich Wong) and has more than 240 employees with additional offices in San Francisco, NYC, Seoul, Tel Aviv, London and Berlin.
Learn more at http://www.tune.com.
Media Contact Information:
Jennifer Wong
TUNE
press(at)tune(dot)com