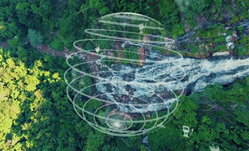 JUPITER, Fla. (PRWEB) May 26, 2023
DMG Productions, producers of the Advancements television series, is excited to announce the broadcast of a new episode, scheduled to air via Bloomberg on Saturday, June 3, 2023, at 8:00 pm ET.
First, Advancements will explore the importance of farmers today and how their dedication to innovation and technology is leading the transformation in how food is produced, distributed, and consumed around the world. Viewers will learn about Allied Potato – an internationally recognized leader in potato growing, packing, and shipping, and will discover how the company utilizes the latest technology and proprietary processes to ensure the quality, freshness, and continuity of its supply.
Next, the show will uncover how technology is accelerating interdisciplinary team science in an effort to create antiviral drugs for emerging viruses. Spectators will see how the Rapidly Emerging Antiviral Drug Development Initiative (READDI) is accelerating the pace of antiviral development globally for multiple virus families with the greatest pandemic potential.
The show will also explore how new tools and capabilities are revolutionizing risk management and analysis. Viewers will learn how J.H. Whitney & Co.'s Risk Ratings model provides a unique ability for companies and countries to measure and analyze exposures and capabilities in global strategic context, so they can manage and mitigate risk.
Discover how advances in technology are helping to provide broader data analysis for more predictive emissions monitoring throughout the oil and gas industry. The segment will uncover how Great Plains Analytical Services is using data and metrics to help the industry meet environmental, social, and governance goals, for a more sustainable future.
"We look forward to exploring how science, technology, and innovation are helping to change the landscape for businesses and consumers today," said Chad Densen, Production Manager for DMG Productions and the Advancements series.
About Advancements and DMG Productions:
Advancements is an information-based educational television series that explores recent developments taking place across several industries and economies. Shining a light on important issues and topics impacting society today, the series features the cutting-edge improvements, state-of-the-art technologies, and innovative solutions responsible for shaping, molding, and transforming our world.
Backed by experts in various fields, DMG Productions is dedicated to education and advancement, and to consistently producing commercial-free, educational programming for viewers and networks.
For more information, please visit http://www.AdvancementsTV.com or call 866-496-4065.