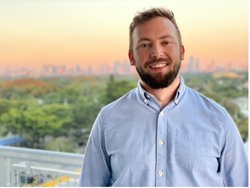 BROOKLYN, N.Y. (PRWEB) February 24, 2022
Leading independent DIY digital music distributor TuneCore, a division of global digital music company Paris-based Believe, has promoted Ace Elijah Burgess to the role of Senior Director of Engineering.
In his new role, Burgess will continue to oversee the team of software engineers that develops TuneCore's digital products and will focus on new innovative technology solutions aimed at bridging the unmet and evolving needs of today's DIY artists.
Commented Andreea Gleeson, Chief Executive Officer "Ace's contributions have been integral to the development and launch of TuneCore's new product and tech stack modernization. As a former songwriter, sound engineer and indie label founder, he deeply understands and cares about building innovative products that artists can't live without. I'm thrilled Ace will lead the engineering team as we move into the next phase of innovation at TuneCore."
Over the last year TuneCore has prioritized the launch of several first of their kind products including "TuneCore Rewards" and "TuneCore Certified" in March and "Social Platforms" in November. TuneCore has also been an early distribution partner for DSPs in their new programs, including "YouTube Shorts", Facebook's "Independent Artist Program", "Spotify Discovery Mode", Tidal's "Direct Artist Payments" and Twitch's "The Collective" as well as distribution to Peloton and Qobuz.
Said Burgess, "I've had an amazing journey here at TuneCore with the best team, and challenging tasks that make my work exciting. From royalty payments to distribution services, we are always seeking ways to be the best at what we do for the ultimate benefit of TuneCore artists. The impact we have had on the music industry and digital music distribution is my greatest reward, and I look forward to the many projects we have coming this year."
Before joining TuneCore in 2019, Burgess served as the Associate Director of Application Development Programs at Planned Parenthood Federation of America. In 2017, he founded the Brooklyn-based independent record label, Interline Records and served as president for two years. Ace has worked as a sound engineer for over 10 years at music festivals around the country. As a member of the American Association of Independent Music, he is an accomplished songwriter, having written songs for other artists as well as produced a handful of studio albums.
About TuneCore
TuneCore is the global platform for independent musicians to build audiences and careers – with technology and services across distribution, publishing administration and a range of promotional services. TuneCore Music Distribution services help artists, labels and managers sell their music through Spotify, Apple Music, Amazon Music, Deezer, TikTok, Tencent and more than 150 download and streaming stores worldwide, while retaining 100 percent of their sales revenue and rights for a low annual flat fee. TuneCore Music Publishing Administration assists songwriters by administering their compositions through licensing, registration, worldwide royalty collections, and placement opportunities in film, TV, commercials, video games and more. The TuneCore Artist Services portal offers a suite of tools and services that enable artists to promote their craft, connect with fans, and get their music heard. TuneCore, part of Believe, is headquartered in Brooklyn, NY, with offices in Los Angeles, Nashville, Atlanta, and Austin, and operates globally through local teams based in the UK, Germany, France, Belgium, Italy, Russia, Brazil, Mexico, Nigeria, South Africa, India, Japan and Singapore across 5 continents. http://www.tunecore.com
About Believe
Believe is one of the world's leading digital music companies. Believe's mission is to develop independent artists and labels in the digital world by providing them the solutions they need to grow their audience at each stage of their career and development. Believe's passionate team of digital music experts around the world leverages the Group's global technology platform to advise artists and labels, distribute and promote their music. Its 1,401 employees in more than 50 countries aim to support independent artists and labels with a unique digital expertise, respect, fairness and transparency. Believe offers its various solutions through a portfolio of brands including TuneCore, Nuclear Blast, Naïve, Groove Attack and AllPoints.
Believe is listed on compartment A of the regulated market of Euronext Paris (Ticker: BLV.PA, ISIN: FR0014003FE9).