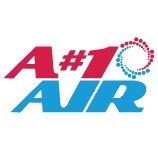 "Having our technicians collect toys directly from the customers right there at their homes is a simple, hassle-free way for people to donate. Then we match them, toy-for-toy. It's a win-win situation for all." - Sherry Green, A #1 Air
Dallas, TX (PRWEB) November 21, 2013
Toys for Tots is an official mission of the U.S. Marine Corps Reserve and operates in compliance with IRS regulations, state laws and local charity standards. Toys for Tots originated in 1947, in Los Angeles, CA, where 5000 toys were collected. A handmade doll was the first toy to be given to a child through the nonprofit organization. Currently, Toys for Tots serves millions of children each year across the nation.
A #1 Air is a leading heating, ventilation and air conditioning (HVAC) company, serving customers for 20 years in the Dallas, Fort Worth metroplex. Family owned and operated by James and Sherry Green, A #1 Air employs almost 200 HVAC professionals and specialists in customer service, information technology (IT), sales, marketing and human resources.
To support local communities during this holiday season, A #1 Air is matching every single toy donated for Toys for Tots from their customers who are purchasing a Tune-Up for Tots Discounted HVAC Tune-Up Special of $49.00. The tune-up is normally priced at $149.00. Customers simply purchase the discounted tune-up and give a new, unwrapped toy to their service technician at the time of service. A #1 will collect these toys, match every single one, and donate all to Toys for Tots on December 18, 2013.
"We do this every year," states Sherry Green, owner and operator of A #1 Air. "It's a great way to give back to the community and help local families in need to bring Christmas to their children. Many would have no Christmas at all if not for Toys for Tots. It truly is a great cause. By offering our Tune-Up for Tots Special and supporting the Toys for Tots efforts, we can get more kids taken care of. Having our technicians collect toys directly from the customers right there at their homes is a simple, hassle-free way for people to donate. Then we match them, toy-for-toy. It's a win-win situation for all."
For more information, please visit Tune-Up for Tots from A #1 Air.
###
A #1 Air is a trusted leader in local HVAC services for both residential and commercial customers in Dallas-Fort Worth and surrounding areas. A #1 Air ensures they offer the best heating and air conditioning services and new installation as possible by guaranteeing the work is right or it is free. A #1 Air does not charge any overtime fees and operates twenty-four hours a day, every day of the year. For more information, please see
Heating and A/C Services from A #1 Air.