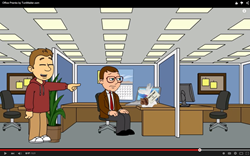 Place your order and we will get it out as soon as possible it generally takes a few days, sometimes a little longer if we get backed up (pun intended)
Jacksonville, NC (PRWEB) April 09, 2015
For 12.99 (or 13.99 with peanuts) TurdMailer.com anonymously delivers your enemy a 4.4 oz chocolate turd, nicely produced card (that reads "You're a Turd") and sticker to make sure the gag lasts. How it works; The customer visits the site at http://www.turdmailer.com/shop places an order and enters the recipients shipping address. Billing addresses are kept private and the package arrives via the TurdMailer.com address and invoice, Simple and Fun.
Drunk Brother-in-law ruin another dinner, Boss a colossal jerk, Have a co-worker you can't stand, Want to break up with a smile, kids' principal an annoying a**? TurdMailer.com offers to say it anonymously with a much needed new service that delivers. The web-site is riotously funny and there is a string of hilarious videos floating across the internet from Reddit to YouTube. You can find the videos on their site's blog as well (its in the navigational drop down) or at http://www.turdmailer.com/blog.
TurdMailer.com promises a fun and resourceful way to make the point. The message is unmistakably obvious and completely anonymous. Intended as a light hearted taunt and fulling believing laughter is the best medicine the site goes beyond just vengeful antics. TurdMailer.com also plays to the good hearted ribbing crowd that like a good prank for Father's Day, birthdays, and office gags.
Why not real poop? Sending real poop seems to hold some inherent problems, health, smell, legal, transportation . . . forget about it. Respect delivery people (someone has to haul that around). It's being done elsewhere but TurdMailer decided to keep it cheeky. The message is the same. The chocolate is good, fresh, and made with partners who are a responsible small business with fantastic chocolate, really its good and perfectly delicious. TurdMailer.com promises 100% anonymity and from their video " TurdMailer.com makes it easy . . . just click at turdmailer.com and its done, easy."
From suits to hard hats the innovative service provided in the launch of TurdMailer.com brings fresh new life to the old stand-by poop joke and reminds us all to "Enjoy, and remember to "turd" responsibly and keep all of your shenanigans cheeky and fun."