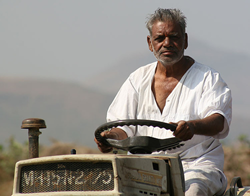 The Family Farm is the foundation of agriculture for every country
Houston, Texas (PRWEB) September 17, 2014
Michael Chaplinsky, president of Turf Feeding Systems, Inc. is sharply focused on implementing sustainable agriculture and water efficiency worldwide. Chaplinsky presents his fertigation ideas and new Fertilizer Factory program which is aimed at increasing soil health.
Michael states, "The world is focused on energy, but water and food are much more important than cars, cell phones and the internet. In less than 100 year we will run out of oil and gas, but we will also run out of fertilizer and chemicals to grow food."
Mr. Chaplinsky also states, "Water is becoming more important than oil and gas. Recent reports show that within 30 years, there will be severe water demand and crop shortages. My team is working now to change agriculture into sustainability."
Read more about the water crisis in China here.
2030: China's coming water crisis
One theme in particular that stands out this year is the coming food and water crisis in China. According to the report, climate change, coupled with China's move toward urbanization and middle class lifestyles, will create huge water demand and therefore will create crop shortages by 2030. As the report states: "Water may become a more significant source of contention than energy or minerals out to 2030."
Chaplinsky is sharply focused on implementing sustainable agriculture and water efficiency worldwide, and is working with key scientists, leaders and practitioners in various areas of the world. He says that sustainable agriculture brings together key technologies to increase efficiency and reduce water use up to 50%. Additionally, sustainable agriculture can reduce fertilizer and chemicals up to 60%, as well as lesson labor and energy, while improving crop production and quality.
Turf Feeding Systems believes that soil health is the key element in sustainable agriculture to improve plant health and increase efficiency to reduce all the inputs to the plant. Healthy soil will over power disease, release nutrients and deposit humates and carbon into the soil, producing black rich soil to support the plant.
"Sadly, most of the synthetic fertilizer and chemical companies don't care about soil health," states Chaplinsky. "All they want to promote is chemical feeding. But, sustainable agriculture combines some synthetic fertilizer with a pro-biotic organic program to promote plant and soil health to reduce costs and increase crop production."
Mr. Chaplinsky is following scientists leading agriculture into sustainability like soil health expert Ray Archuleta with the U.S. Depart of Agriculture. Watch his video about the importance of soil health.
Ray Archuleta is changing agriculture by bringing nature and soil health back into growing plants and producing food.
Fertigation:
Irrigation is more important worldwide today in agriculture and Turf Feeding Systems is a world leader in fertigation (injecting fertilizer into irrigation). Fertigation injects light plant and soil nutrients into irrigation water to make every drop of water sweet with all the nutrients needed. This is the most efficient way to feed the plant.
Waste into Fertilizer Factory:
Mr. Chaplinsky also offers a special fertilizer factory, Sustainable Solutions Center, which converts poultry waste into high quality organic fertilizer.
He says, "Most countries have large poultry production farms that produce thousands of tons of waste manure that need to be discarded. This factory pasteurizes the waste and produces the best organic fertilizer in the world. The fertilizer is rich in amino acids and nutrients to produce outstanding crops, and more important, it is low cost fertilizer, without import duty or freight."
The factory is his solution to help the rural family farmer. The factory will convert waste into valuable organic fertilizer, create jobs, sell local products made by local people to local farmers, and improve crop production and improve the economy and livelihood of the family farmer. It is his magic process of converting waste into gold (valuable fertilizer for the rural family farmers).
He has a number of factories proposed throughout the world, and is focused in Africa, Indonesia and Brazil where agriculture needs low cost domestic fertilizer.
Mr. Chaplinsky works worldwide and speaks at many conferences. His direction and passion is to help people who have water, soil health and food production issues because, it is the right thing to do.
Bio:
Michael Chaplinsky – President / Founder Turf Feeding Systems
Turf Feeding Systems - Houston Texas – USA - The world leader in packaged fertigation systems (fertilizer injection into irrigation) for golf, sports fields, landscapes, resorts and agriculture.
Mr. Chaplinsky has worked for over 28 years implementing water efficiency and sustainability into all types of irrigated projects around the world. He speaks at many conferences and lectures on sustainable soils, landscapes, golf and agriculture.
Mr. Chaplinsky has worked with the top scientists and engineers on project that include construction, revegitation, bio-remdiation and beach erosion. He brings technologies and practices together to promote plant and soil health, and create the values and benefits of sustainability.