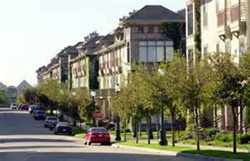 Green Landscapes and Green Spaces for less.
Houston, Texas (PRWEB) November 04, 2014
Billingsley Development is one of the largest property developers in Texas, and Austin Ranch is one of their large 1900 acre master planned developments in the prime Dallas area. Austin Ranch is a high end mixed housing and commercial property development in the rolling hills of North Dallas. The landscapes and green space is a lifestyle quality.
Turf Feeding Systems, a Texas fertigation company, has been working to recover the landscape for Billingsley Development, all while decreasing the water, fertilizer and chemicals used to maintain the area. Today, Turf reflects on Phase I of the project while gearing up for Phase II.
Mr. Kenneth Cook, the CEO/founder of Water Centric has been working with Austin Ranch for the last two years to reduce the high water use on the first phase of over 35 acres of landscapes. The irrigation water has high sodium and the landscape maintenance company was irrigating over 12 hours a day, seven days a week. However, the landscapes were still in very poor condition at best.
Mr. Cook has over 30 years of background in the landscape industry, and sold his landscape business ten years ago to start a company, Water Centric. The venture is focused on irrigation water use and water efficiency for all types of large landscapes and green spaces. Water Centric is on the leading edge of water efficiency companies in America, with proprietary central controls, and water quality management. The company has a strong understanding and implementation of plant and soil health correlating with water usage.
Mr. Cook brought Turf Feeding Systems into Austin Ranch to solve the sodium problems in the irrigation water and implement sustainable landscapes to feed the entire area lightly through the irrigation. Turf Feeding Systems is a Houston company and a leader in fertigation systems (fertilizer injection into irrigation) worldwide. Michael Chaplinsky, the president, is an expert in sustainable landscapes, sports fields, agriculture and is an expert on sodium problems in all types of irrigated areas.
Turf Feeding Systems installed a dual pump fertigation system on the Austin Ranch irrigation system two years ago and injected Sodium Blocker and a fertilizer mixture of fertilizer to feed the plant and soil.
Chaplinsky states, "It's easy to overcome any landscape problem when you get the plant and soil health restored. Austin Ranch was another great landscape recovery."
The great success of the water reduction and high quality sustainable landscape on the first phase at Austin Ranch continues. Now Austin Ranch is going through new construction for the second phase of development and Water Centric is installing a new central control irrigation system. Additionally, a Turf Feeding Systems fertigation system for the 150 acres of landscapes and green spaces will be utilized.
Tim Long, the Water Centric project manager at Austin Ranch, is installing a large dual pump fertigation system to continue the same sustainable landscape program on the new irrigation system for the next phase. The new irrigation system will use non-potable water from a well and will have a large 1,500 gallon per minute pump station to pressurize the water for irrigation. The pump station building will have a special fertigation room for fertigation pumps and fertilizer tanks.
water Centric is the expert in smart irrigation and water efficiency, and Turf Feeding Systems is the world expert in fertigation, sustainable landscapes and soil health. Together they are delivering high quality landscapes and green spaces to Billingsley Development, using less irrigation water, fertilizer and chemicals and energy, with a very good return on investment.
Michael Chaplinsky states, "We give our customers – healthy green landscapes for less."
Bio:
Michael Chaplinsky – President / Founder Turf Feeding Systems
Turf Feeding Systems - Houston Texas – USA - The world leader in packaged fertigation systems (fertilizer injection into irrigation) for golf, sports fields, landscapes, resorts and agriculture.
Mr. Chaplinsky has worked for over 28 years implementing water efficiency and sustainability into all types of irrigated projects around the world. He speaks at many conferences and lectures on sustainable soils, landscapes, golf and agriculture.
Mr. Chaplinsky has worked with the top scientists and engineers on projects that include construction, revegitation, bio-remdiation and beach erosion. He brings technologies and practices together to promote plant and soil health, and create the values and benefits of sustainability.
Please click this link to sign up for Turf Feeding Systems Monthly Newsletter.