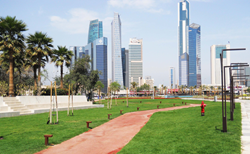 Al Shaheed Park the First Sustainable Park in the Middle East
Houston, Texas (PRWEB) April 14, 2015
Al Shaheed Park in Kuwait City is a $70 million, 45 acre personal project of the Prince, and it will become a great showcase and case study for sustainability and water efficiency in Kuwait.
The House of Development for Agricultural Contracting Co. (HOD), the landscape contractor for the Al Shaheed Park project, selected Turf Feeding Systems(TFS) a Texas company, to supply a special fertigation system designed for the venture.
Michael Chaplinsky, the president of Turf Feeding Systems, has just returned from a trip to Kuwait supervising the installation of their fertigation system on the irrigation. The installation was done by a team from HOD.
Chaplinsky supervised and trained the HOD team to become the first sustainable landscape fertigation team. HOD has created a new service business for Kuwait, selling and installing fertigation, supplying the fertilizers and soil nutrients, as well as consulting on sustainable water and efficient practices.
HOD is one of the largest agricultural and landscape contractors in Kuwait, and is a leader in efficient agriculture and landscape products and technologies. HOD is the TFS distributor for Kuwait as well as a strategic partner in water efficiency and sustainability technologies.
Chaplinsky states, "The secret of sustainability for this project or any crop is improving soil health and plant health together. This will create a strong deep root system to support and feed the plant using less water, fertilizer and chemicals."
He says, his goal is for Al Shaheed Park to be the best landscape in Kuwait using the least water, fertilizer and chemicals. He is delighted for the Prince to have the first sustainable park in the Middle East.
Mr. Chaplinsky has a number of projects in Ghana West Africa, Kazakhstan, Uzbekistan and in Bali as well as with olive growers in Texas. He is an expert in improving poor soils, sand, and sodium issues in the soil.
He is looking for serious partners to implement sustainable agriculture anywhere in the world. Interested parties can contact Chaplinksy and join his e-newsletter by clicking here and completing the form.
Bio:
Michael Chaplinsky – President / Founder Turf Feeding Systems
Turf Feeding Systems - Houston Texas – USA - The world leader in packaged fertigation systems (fertilizer injection into irrigation) for golf, sports fields, landscapes, resorts and agriculture.
Mr. Chaplinsky has worked for over 28 years implementing water efficiency and sustainability into all types of irrigated projects around the world. He speaks at many conferences and lectures on sustainable soils, landscapes, golf and agriculture.
Mr. Chaplinsky has worked with the top scientists and engineers on project that include construction, revegitation, bio-remdiation and beach erosion. He brings technologies and practices together to promote plant and soil health, and create the values and benefits of sustainability.