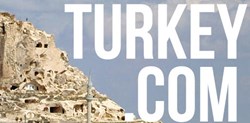 100% fresh and dynamic content that's written by local residents
Melbourne, VIC (PRWEB) December 02, 2013
Just a few weeks ago, a sleek new Turkey travel resource site was launched. With content written entirely by natives of the country, Turkey.com provides visitors with rare cultural insights that many other travel sites fail to offer. The informative Turkey reference site was created by premium domain and website specialists, Igloo.com. Tessa Holcomb, Igloo Co-Founder and CEO, says of the recently released site, "Turkey.com gives visitors much needed relief during their online search for travel tips because it's not packed with ads or banners trying to sell tours or hotel rooms. The site is about providing valuable resources to those really interested in the country."
Searching the internet for helpful information, be it for travel tips or reference material, can be exhaustive in and of itself because the data isn't always reliable or in the same place. This can be especially difficult for those interested in travelling because they're seeking tips and facts they can depend upon once abroad.
Realizing that many travel sites aren't designed or managed by the locals of the countries they advertise, the owner of the ultra-premium domain name Turkey.com, together with Igloo, decided it was time to add a fresh approach to the mix of Turkey travel resources available online.
After originally working with Igloo's acquisition team to acquire this prestigious Internet address, the new owner of Turkey.com worked with Igloo to have the site fully developed to exacting and high standards. "We help people find the right domain, then acquire and develop it. Igloo can then assist with rebranding and monetization if necessary, and eventually even resale if that's the owner's intention" says Mrs. Holcomb.
It was only a few weeks ago that Igloo proudly launched the Turkey.com website, "Its uniqueness comes from being 100% fresh and dynamic content that's written by local residents. For example, it used to be considered rare for a foreigner to learn Istanbul history by the locals, but they can now" remarks Igloo's other co-founder and CTO, as well as Turkish native himself, Mr. Alphan Culha.
Being the first phase of the website launch, Turkey.com aims to be the "ultimate reference for Turkey, whether it's for potential tourists of the country or purely referential. Because the content has been generated by the locals, it's one of the few sites that can offer real insights into the country" comments Mr. Culha.
Mrs. Holcomb then adds, "At Turkey.com, the visitor isn't hit immediately with tour packages or hotel booking engines. It's about the culture and the country; and that becomes apparent when they read the articles, such as the article on Ephesus." She also mentions that upcoming version releases of the site will add the ability to book local boutique hotels and tours, "but again, these won't be obtrusive advertisements. What's more, they'll be sourced by locals and operated by reliable Turkish businesses."
Mr. Culha further remarks that "travel guides like Lonely Planet are great if you're going to spend only a few days or a week in Turkey. But the new Turkey site gives visitors a chance to have the experience one would get if they stayed in the country for many, many months in order to find the real gems. And that's what Turkey.com offers – the gems."
Just recently, premium domain and website specialists, Igoo.com assisted in launching an innovative Turkey travel resources website. The Turkish travel and cultural site aims to be the "ultimate resource for all things Turkey and the site owner is really happy with what we've done so far" says Mrs. Holcomb. To learn what the local residents of Turkey have to recommend of their country on the new Turkey.com site, be it about travel, sports or business, click here or follow the Turkey Facebook page.
About Igloo.com
The combined experience and talents of the Igloo team ensure they take the time to develop and understand their clients' needs. Whether it's adding a domain to an investment portfolio, a personal site, creating a start-up or Fortune 500 company, Igloo will help realize those goals.
With nearly $100 million in domain and website transactions completed, their dedicated team of domain and website specialists know how to stay focused and on-trend in the industry. It's through their commitment to excellence they can offer unparalleled opportunities in the online space to maximise their clients' success. To learn more about Igloo, visit their About Us page.