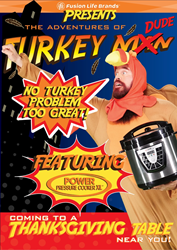 It may seem counterintuitive to use social media in a commercial sense, but our goal is to introduce what is considered an "old- fashioned" method of cooking to a newer generation of fast-paced multi-taskers
Fairfield, NJ (PRWEB) October 15, 2015
This innovative strategy is designed to use the power of social media to teach people not to be chicken about cooking turkey. The superhero, Turkey Dude, half man – half feast, former WWE wrestler, Gene Snitsky, flies to the rescue of people having a turkey cooking dilemma, and demonstrates how it is one-touch easy to cook a turkey in less than an hour in the Power Pressure Cooker XL.
"We wanted to use social media to promote the Power Pressure Cooker XL as an essential tool for cooking Thanksgiving dinner, and since social media responds to comedy, we dreamed up 'Turkey Dude' to make this promotion informative, fun, and entertaining," said Norah Alberto, Director of Global Brand Communications at Tristar. "Our Turkey Dude, Gene Snitsky is hysterical. He's a Thanksgiving Superman, of sorts— and even kids are going to have fun watching this."
Professional Wrestler, Gene Snitsky's "Turkey Dude" character is a sight gag in all its gobbling glory. The team at Tristar had no choice but to create a massive, custom turkey suit to fit his nearly seven-foot tall stature. The result? A larger than life turkey giant who makes the perfect feathered superhero to teach people not to be "chicken" about cooking turkey.
In the campy, comedic episodes, Turkey Dude encounters various Thanksgiving Turkey dilemmas, and solves them with his secret weapon, the Power Pressure Cooker XL. The episodes include the birth of Turkey Dude explaining how he got his superpowers. There's even an episode where Turkey Dude thwarts his nemesis, diabolical cattle rancher, Beef O'Keefe. The steak-selling villain has a beef about Turkey Dude teaching people how easy it is to cook turkey, and attempts to take the feathered superhero out in an evil plot.
"It may seem counterintuitive to use social media in a commercial sense, but our goal is to introduce what is considered an "old- fashioned" method of cooking to a newer generation of fast-paced multi-taskers," said Lucille Dehart, Chief Marketing Officer at Tristar. Creating a series around common Thanksgiving mishaps helps to reposition pressure cooking. The Power Pressure Cooker XL is the leading cooker in the category and offers one touch performance at up to 70% faster speeds than traditional cooking methods. The series is part of a 360 campaign and we are excited to see how impactful it will be from both an entertainment and sales perspective."
"The Adventures of Turkey Dude" premiered October 14th. A new webisode will be released every Wednesday leading up to Thanksgiving. You can view all webisodes at powerpressurecooker.com/turkeydude
Visit us on facebook
ABOUT TRISTAR PRODUCTS
Tristar Products Inc. is the recognized pioneer of taking innovative ideas and creating #1 brands worldwide. Dedication to high standards of quality manufacturing makes Tristar Products, Inc. an internationally respected infomercial market leader. With well established brands, proven international and domestic distribution channels, media power in over 100 countries and quality manufacturing that attracts celebrity endorsements, Tristar Products Inc. has exceeded over a billion dollars in sales. Tristar Products, Inc. is an Inc. 5000 company.