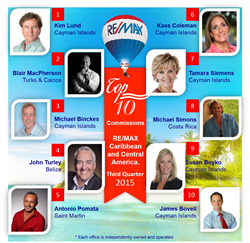 Achieving top 10 sales status is a tremendous accomplishment, especially when taking into account RE/MAX has over 350 associates in 60 offices across the Caribbean and Central American region
Providenciales, BWI (PRWEB) November 18, 2015
Blair MacPherson, Turks and Caicos real estate broker and co-owner of RE/MAX Real Estate Group Turks & Caicos Islands, has been named to Top 10 status for Third Quarter 2015 sales for RE/MAX's offices in the Caribbean and Central America.
"Achieving top 10 sales status is a tremendous accomplishment, especially when taking into account RE/MAX has over 350 associates in 60 offices across the Caribbean and Central American region," MacPherson says. In addition to being a top producing broker for RE/MAX, MacPherson is a member of the Turks and Caicos Real Estate Association (TCREA), and is well-known throughout Turks and Caicos (TCI) for exemplary customer service.
"RE/MAX Real Estate Group is dedicated to assisting our clients in finding their dream homes and acquiring investment properties, as well as helping them list and sell their properties quickly, for the highest price possible," MacPherson says. "The Turks and Caicos real estate market has been growing steadily in recent years, helped by recently being named the number one island in the world, its great location, beaches and tax-friendly status. It is exciting to be involved in the growth and new development in this region."
A native of eastern Canada, MacPherson has worked over 20 years in the real estate industry. After a visit to Turks and Caicos in 2002, he decided to make Providenciales his home and specialize in investment and residential real estate in TCI.
"Living in Turks and Caicos, I've been able to successfully hone my craft and knowledge of the housing market here, culminating in over 150 million dollars in real estate sales," MacPherson says. "I've developed the skills, expertise and local market knowledge to provide substantial advantages to those looking to invest in the TCI real estate market."
To contact Blair MacPherson, email blair(at)blairmacpherson.com or call 1-649-432-5677 or 1-800-941-0465.
RE/MAX Real Estate Group's featured property is Villa Aqua Pulchra, a stunning villa that faces the world-renowned Chalk Sound waters in Turks and Caicos. With 4 bedrooms, 5 bathrooms, 6656 square feet and a private dock, Villa Aqua Pulchra is the ideal lifestyle investment. As seen on the New York Times, this property is available for USD $1,595,000.
About RE/MAX Real Estate Group Turks & Caicos Islands:
The RE/MAX Real Estate Group Turks & Caicos offers unique, luxury real estate opportunities on the islands that are home to Grace Bay Beach, which has been named one of the world's best beaches numerous times. With breathtaking views, world-class spas and resorts, fine dining, local culture, and the awe-inspiring coral reefs, the Turks and Caicos Islands offer unique investment opportunities in that they are located in a tax-free jurisdiction. For more information, please visit http://www.remax-realestategroup-tci.com.