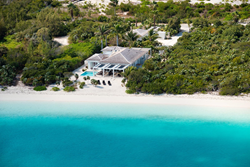 The Turks and Caicos Islands is an exceptionally important destination for our company.
Providenciales, Turks and Caicos Islands (PRWEB) June 30, 2014
CARIBIQUE already has a very substantial luxury Turks and Caicos villa rentals portfolio with more than 40 villas on the island of Providenciales. With the addition of more than 30 new villas, it will have one of the largest portfolios of Turks and Caicos villa rentals and guests will be able to choose from more than 70 beautiful beach villas. The vast majority of the villas are beachfront and in the most desirable locations on Providenciales such as Grace Bay Beach, Long Bay Beach, Sapodilla Bay Beach, Taylor Bay Beach and Babalua Beach.
Two of the new villas are already available on CARIBIQUE's very user-friendly website and all of the new villas are scheduled to go online by the end of July 2014.
Blue Orchid Villa, located on Leeward Beach, Providenciales, provides privacy and luxury on a beautiful stretch of white, sandy beach. The villa consists of a main building with 3 spacious bedrooms and a separate, self-sufficient, guest cottage with 1 bedroom. It also benefits from 2 freshwater swimming pools, one beachfront and one next to the guest cottage surrounded by beautifully landscaped gardens.
Beach Villa Oceanus, located on the Turtle Cove section of world-famous Grace Bay Beach, has 4 spacious bedrooms with king-size beds and 2 additional bedrooms with single beds, perfect for children. This modern, contemporary villa was designed with the living areas and the infinity-edge swimming pool on the second floor to take full advantage of the stunning views over Grace Bay and the Princess Alexandra National Park.
"The Turks and Caicos Islands is an exceptionally important destination for our company and the demand for luxury beach villas most often exceeds our current supply. Therefore, expanding our portfolio to be able to offer more than 70 of the best villas in the Turks and Caicos Islands is extremely important to us," said Carl McBurnie, owner of CARIBIQUE.
About CARIBIQUE
CARIBIQUE Villa Rentals is owned and operated by CARIBIQUE Ltd., a company in the "Beautiful by Nature" Turks and Caicos Islands. Their user-friendly website offers almost 180 Caribbean villas in 16 of the most popular Caribbean destinations. For more information about listing a villa on the website or booking a Caribbean vacation, contact Carl McBurnie or visit http://www.caribiquevillarentals.com/
We're not just unique, we're CARIBIQUE!