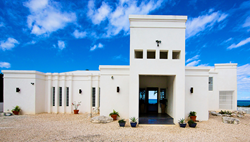 This is truly the ideal location for a single family seeking a luxury vacation home
Turks and Caicos Islands, Provideciales, BWI (PRWEB) January 23, 2015
RE/MAX Real Estate Group Turks & Caicos Islands has just listed a stunning luxury villa on the northern coastline of Providenciales. The Villa Blue Caribe sits on 0.85 acres of land in an area known for the highest elevations found in Turks and Caicos. Boasting 360 degree views of lush landscapes and the vibrant, azure ocean, listed at $1,885,00.
The Villa Blue Caribe is a two story home with three bedrooms and three bathrooms, totaling 4,400 square feet. This villa is constructed with crisp, clean lines, and bright, airy interiors. Floor to ceiling windows and glass doors with a seamless layout make this property perfect for any gathering or entertaining event. An open floor plan flows through the living room, with massive vaulted ceilings and ocean views, into the spacious kitchen, which features a double oven, granite countertops, and a large island looking out onto an expansive deck. Out on the deck, there is ample room for lounging, an illuminated infinity edge pool overlooking the turquoise ocean, and a fire pit, so the enjoyment can last all night long.
"This is truly the ideal location for a single family seeking a luxury vacation home, but is also a fantastic real estate investment opportunity," says Blair MacPherson, broker and co-owner of RE/MAX Real Estate Group Turks and Caicos Islands. "No matter what the reason for investing here is, the return on investment, both financially and in terms of pure enjoyment, cannot be beat."
The Villa Blue Caribe is in an ideal location, just minutes from Turtle Cove Beach and Marina. Miles of coral reefs rich in aquatic life are accessible from the shore for snorkelers to enjoy. Providenciales is considered the most popular island of Turks and Caicos, with this villa located on the northern shore atop Blue Mountain. With the highest elevation on the island at 156 feet, views of the azure ocean and lush mature landscapes are unbeatable.
About RE/MAX Real Estate Group Turks & Caicos Islands:
The RE/MAX Real Estate Group Turks & Caicos offers unique, luxury real estate opportunities on the islands that are home to Grace Bay Beach, which has been named one of the world's best beaches numerous times. With breathtaking views, world-class spas and resorts, fine dining, local culture, and the awe-inspiring coral reefs, the Turks and Caicos Islands offer unique investment opportunities in that they are located in a tax-free jurisdiction. For more information about this luxury beachfront villa and RE/MAX Real Estate Group Turks and Caicos, please visit http://www.remax-realestategroup-tci.com/property/villa-blue-caribe/.
Contact:
Blair MacPherson
Owner/Broker
RE/MAX REAL ESTATE GROUP
Turks and Caicos Islands, BWI
Cell – 649.432.5677
Vonage – 239.344.9319
Toll Free – 1.800.941.0465
Email – blair(at)blairmacpherson(dot)com