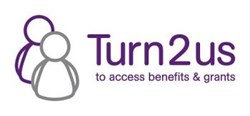 Our new, free Benefits Calculator, enables people to find out what help they are entitled to and how to make a claim
London (PRWEB UK) 8 October 2013
In response to the largest shake-up of the UK benefits system, today the charity Turn2us has launched a new, free and easy-to-use online Benefits Calculator. With nine out of ten people worried about the benefit changes, according to research by Turn2us, and personal finances being increasingly stretched, the new Benefits Calculator is a vital tool to help more people access financial support they may be entitled to.
Despite 13 million people living in poverty in the UK, including 4 million children, awareness of the financial support available is low. The new Benefits Calculator is the first in a series of enhancements Turn2us is making to its services to improve the support offered to people in financial need.
With over 4 million visitors to the Turn2us website in the last year, Turn2us has used its experience and feedback from service users to develop an easy-to-use Benefits Calculator. The Calculator helps individuals to find out what welfare benefits they are entitled to, how much they should receive and how to make a claim. It estimates expected Universal Credit entitlement and how it compares to current benefit rates. The Benefits Calculator also links to the Turn2us Grants Search tool to help people find other sources of financial help and support from charitable funds. The calculator can be used at home on your desktop or on your mobile phone.
Alison Taylor, Director of Turn2us said:
"Anyone can experience a sudden drop in income, with job loss, illness and family breakdown all placing a major strain on household finances. As the benefits system is changing, many people are confused about what support they are entitled to and who they can turn to for help. Our new, free Benefits Calculator, enables people to find out what help they are entitled to and how to make a claim."
In addition to the new Benefits Calculator, the Turn2us website includes a free Grants Search database and up to date information about benefits and managing money for people from all backgrounds to help maximise their income.
Case study:
As owners of a successful business, Graham and his wife were used to living on a comfortable household income. However after suffering a serious fall which broke his legs, Graham was left unable to run the business, and his wife had to leave her full-time job to care for him.
He had to sell the company and his wife had to give up her job to look after him. With no income, the couple struggled to make ends meet and resorted to selling possessions online to try and raise money.
Having never claimed benefits before, Graham was told to try Turn2us for help. After visiting the Turn2us website, Graham found, he realised that he could claim Employment and Support Allowance (ESA) because of the on-going condition from his accident. Graham now receives £144 in ESA every fortnight.
Graham says: "We're much happier now as this extra money has kept us ticking along and helped us to budget for the weeks ahead. I've already recommended Turn2us to others – it's the best place to check what you might be entitled to, you've got nothing to lose."
About Turn2us:

Turn2us helps people in financial need gain access to welfare benefits, charitable grants and other financial help – online, by phone and face-to-face through our partner organisations
The Turn2us website, www turn2us org uk, is designed to help people access the money available to them – through welfare benefits, charitable grants and other help
The website has a number of tools to make the process simpler, including a Benefits Calculator, Grants Search database and a 'find a benefits adviser' tool to help locate someone to speak to