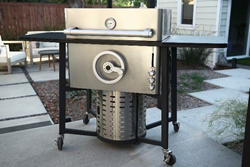 "Grilling performance anxiety is real; no one wants to ruin food for their guests or be tethered to the grill. At the end of the day, cooking should be joyful," said Peck Euwer, founder of Ferno Grills.
SANTA BARBARA, Calif. (PRWEB) May 16, 2019
Nearly 80 million people are expected to grill this summer, and this year everyone from casual backyard cooks to master grillers can do it on the ultimate grilling machine. Launched in late 2018 in California, Ferno Grills today announced that it is now available nationwide and includes white-glove delivery service. The detail- and design-forward, easy-to-use luxury grill features the industry-first, patented Ferno Firewheel which allows for precision cooking and grilling confidence.
"Grilling performance anxiety is real; no one wants to ruin food for their guests or be tethered to the grill. At the end of the day, cooking should be joyful," said Peck Euwer, founder of Ferno Grills. "It took four years, eight prototypes, one patent and over 750 lbs. of meat, fish and veggies to test and build the Ferno Grill. It delivers a more controlled experience, so even the cook can enjoy themselves during gatherings."
With the Ferno Grill, masterful engineering and workmanship are coupled with state-of-the-art components that work together to deliver culinary excellence. The industry-first Ferno Firewheel is an innovative and precise cooking system that provides more control for a consistent and exacting cooking experience. Ferno affords the ability to adjust the height of the burners and flames, allowing backyard cooks to sear, smoke or slow cook to perfection.
Its professional-grade, custom ¼" cast iron grates deliver precision cooking, easily grilling vegetables and fish without food falling into the grill, while also providing grill lines on meat. Its large capacity, ceramic wool insulated hood and large cooking footprint also mean you can grill two 18 lb. turkeys at once. Heavy gauge stainless steel and aluminum finishes, a 10-year warranty on burners and radiants, and 20-year warranty on the frame and firebox ensures the Ferno withstands the test of elements and time.
Ferno Grill Features

Turn Up (or Down) the Heat: Patented Ferno Firewheel with chain driven burner jack system with 7" of vertical travel
Great Grates: Reversible grates present flat griddle-like cooking surface
Room to Prep: 400 sq inches per side table, with 100 lb. weight capacity made from Mapletex, an NSF-rated food handling material
Keep the Heat In: Ceramic wool hood insulation
Warm It Up: Convenient side warming area (5" x 21")
Accessible Gas Tank: Easy and accessible swivel compartment for gas tank
It's Easy Being Clean: 26" x 18" x 1" extra-large grease tray with easy slide-out
Seeing Is Believing: 90 lumens of LED lighting built into hood with automatic shut-off
Smokin' Hot: Optional smoker box
GRILLING SURVEY
Ferno surveyed 1,000 Americans this month on their grill habits. The results are fascinating.

31% of respondents feel some anxiety about grilling
The top reasons for this are:
o Fear of overcooking – 68%
o Fear of undercooking – 63%
o Lack of temperature control – 40%
o Don't want to embarrass themselves in front of guests – 33%

76% of respondents have burned food on the grill. 36% said it was because they weren't paying close enough attention, while 26% said it was lack of temperature control/the grill got too hot
The most commonly burned foods are beef (42%) and chicken (37%)
10% of people avoid grilling because they don't want to burn the food
When it comes to anxiety, 53% of people said backyard grilling causes the most (stovetop was 24% and oven 22%)
40% of people said lack of temperature control was the biggest problem with grills today
Additional assets and materials, including the Ferno Grills reviewer's guide and product images, can all be viewed and downloaded here.
Ferno Grills are available for order on https://fernogrills.com/ and at 888.800.1688 for $4,800 which includes white glove delivery anywhere in the continental U.S.
About Ferno Grills
Ferno Grills exists to deliver the ultimate precision culinary experience, conscientious design and masterful function through high performance, luxury grills. Engineered in Santa Barbara, where grilling season is year-round, Ferno Grills are available nationwide. For more information, visit https://fernogrills.com/ or follow @fernogrills on Instagram.
CONTACT INFORMATION
ferno(at)craftedpr(dot)com