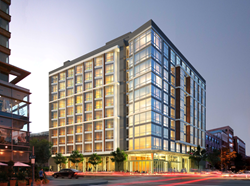 Turner is thrilled to have worked with such wonderful partners to build this exquisite hotel to accommodate the thriving West End area of DC. Businesses, locals and tourists are sure to enjoy its amenities.
Washington, D.C. (PRWEB) June 18, 2014
Shalom Baranes Associates, OTO Development, LLC, Perseus Realty, and Turner Construction Company celebrated the completion of the construction of the Hilton Garden Inn at 2201 M Street as the hotel held their soft opening on May 23, 2014. The restaurant below the hotel, Cafe Deluxe opened on Tuesday, May 20th prior to the hotel.
The new 167,888 SF Hilton Garden Inn is a 238 room, LEED Silver, upscale Hilton Garden Inn hotel. Two levels of subsurface structure accommodate one level of parking for 53 cars and one level of office space. Building amenities include a 24-hour fitness center, heated rooftop pool, and an attractive garden terrace. Within the hotel is the 155-seat Café Deluxe restaurant featuring sliding storefront which can be opened on days of nice weather with a large bar and rentable private dining space.
"Turner is thrilled to have worked with such wonderful partners to build this exquisite hotel to accommodate the thriving West End area of DC. Businesses, locals and tourists are sure to enjoy its amenities," says Ken Jones, Vice President and General Manager of Turner.
The building is poured in place, post-tension concrete construction, typical of the Washington, DC market. The facade consists of rainscreen, curtainwall at the street elevations and brick with punch windows at the rear elevations. Achieving the unique look of the exterior this building required the detailed execution of various façade elements including terracotta, metal panels, stone, curtain wall, brick, architectural precast concrete and punch windows. Sub-surface utility work was required below 22nd Street and M Street consisting of improvements to existing utilities and many tie-ins.
About Turner Construction Company
Turner is a North America-based, international construction services company. Founded in 1902 in New York City, Turner has 5,200 employees worldwide and works on 1200 projects each year, for an annual construction volume of $8 billion. As the largest general builder in the United States, Turner ranks first or second in the major market segments of the building construction field, including healthcare, education, sports, commercial, telecommunications, and green building. The firm is a subsidiary of HOCHTIEF, a publicly traded company, and one of the world's leading international construction service providers. For more information, please visit http://turnerconstruction.com.
About HOCHTIEF
HOCHTIEF is one of the leading international providers of construction-related services. With more than 80,000 employees and a sales volume of EUR 23.28 billion in FY 2011, the company is represented in all the world's major markets. With its core competencies in development, building and operation, the Group delivers services for the entire life cycle of infrastructure projects, real estate and facilities. The focus of the related business activities is on four strategic areas: energy infrastructure, transportation infrastructure, major cities, and resources. With its subsidiary Leighton (HOCHTIEF share around 54 percent), the Group is market leader in Australia. In the USA, the biggest construction market in the world, HOCHTIEF is the No. 1 general builder via its subsidiary Turner and, with Group company Flatiron, ranks among the most important players in the field of transportation infrastructure construction. Because of its engagement for sustainability, HOCHTIEF has been listed in the Dow Jones Sustainability Indexes since 2006. Further information is available at http://hochtief.com/press.
About OTO Development, LLC
Established in 2004, OTO Development is a rapidly growing hotel development and management company. With an emphasis on quality, reliability, service, and value, the goal of OTO Development is to develop a portfolio of great hotels managed by exceptional people. In the past ten years, OTO Development has developed over 50 hotels and currently operates portfolios of hotels for both a publicly traded REIT and the largest private equity firm in the world as a third party manager. Today, the company continues its impressive growth with more than $500M in urban new development projects in Seattle, San Francisco, Los Angeles, San Diego, Manhattan and Washington DC. For more information about OTO Development, please visit http://otodevelopment.com or contact info(at)otodevelopment(dot)com.