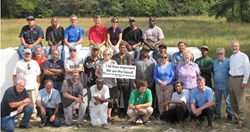 75 Years Later...We are the good. - Turner Equipment Company Employees
Goldsboro, NC (PRWEB) November 24, 2013
At the height of the Great Depression, Sumpter Turner traveled the east coast representing Wm. M. Wilson's Sons, the maker of Gasboy Fuel Management. During his travels he found the people, climate and lifestyle of Eastern North Carolina to his liking, so in 1939 he left Gasboy and founded Turner Equipment Company (maker of Turner Tanks and Turner Greenhouses) in Goldsboro.
In the 1940's Mr. Turner was active in what was then recognized as Community Chest, an organization that centrally raised funds, for various and deserving agencies. Even in depressed and war times, he felt investing in the local citizens who needed help was a win/win.
The company sustained support of the Community Chest through the years while it evolved to the United Fund in 1954 and finally United Way in 1974.
In came Melvin "Bushnell" Andrews a dedicated Wayne County citizen and leader. His career at Bank of Wayne, now Wells Fargo, and strong faith gave him the platform to be an unparalleled civic leader. Mr. Andrews dedication to the Goldsboro community lead the United Way to create an award in his memory in 1968 and present it to an outstanding organization every year.
Turner received its first Bush Andrews Award in 1993.
"Our employees know every dollar in their investment stays within the community." Turner President, Gary Smithwick, and son-in-law of founder Mr. Turner. Having been a recipient of United Way's supported agencies, due to a childhood house fire, Mr. Smithwick understands the meaning of being uplifted by your community. "We'd like for people to be aware that United Way agencies function year-round, not just during the campaign."
Turner encourages employees and the community the most effective way of participating in the annual United Way campaigns called Fair Share Giving.
Turner strives ever year to reach a goal of 100% employee fair share participation, (a pledge of one hour's pay per month). Quarterly, employees go out in the community to see how their participation in the program helps citizens.
"They look forward to that meal every day," says employee Caesar Anderson referring to the Meals on Wheels program.
Turner and its employees are proud recipients of the Bush Andrews Award eleven times. They soon will receive the award again, making it an even twelve, and just in time for their upcoming 75th anniversary.
To learn how your company can get involved visit, http://UnitedWayne.org.