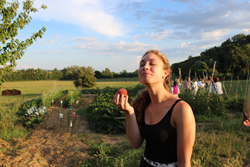 This unique Tuscany holiday combines sustainable agriculture, cultural immersion, and world-class cycling.
Arlington, MA (PRWEB) November 24, 2014
Join Ciclismo Classico guide, Sandro Draghi, on her family-run farm in Tuscany for an exciting new cycling and epicurean adventure. Dedicated to the "Slow Food" philosophy, this unique six-day Tuscany tour includes some of the most beautiful bike rides in Italy and a complete cultural immersion into the Tuscan lifestyle on an energy-independent Italian agriturismo. For more information, check out "Tuscany Green" or call 1.800.866.7314.
"This unique Tuscany holiday combines sustainable agriculture, cultural immersion, and world-class cycling," said Ciclismo Classico Founder/CEO Lauren Hefferon. "Guests will learn about bio-architecture, renewable energy technology, organic extra virgin olive oil production, and stay in accommodations restored with local and natural materials."
Highlights of this Tuscany epicurean tour include: six spectacular rides in six different areas of Siena Province; learning how to cook Tuscan dishes during hands-on cooking classes; lovely accommodations in a 13th century mill & energy-independent Agriturismo; touring local farms and wine cellars; visiting Tumulo del Molinello; soaking at the thermal springs in Rapolano Terme; and more.
"Guests will ride along the Crete Senesi, the world's most photographed panorama and through the famous Chianti Classico region and Montalcino, the city of the famous wine Brunello di Montalcino," said Hefferon.
Another great foodie tour, La Bella Puglia, starts at the UNESCO World Heritage Site and Baroque capital of the Salento area in Lecce. From here riders pedal south and discover the famous wine region of the "Salice Salentino." Quiet roads dotted with fig trees, blooming cacti and giant olive trees offer a wonderfully scenic cycling experience. Guest sample local favorites like homemade orecchiette and grilled calamari pulled fresh from the sea. This entry-level bicycle trip is an ideal introduction to the irresistible Basilicata and Puglia regions.
For more information on summer cycling tours or other Italy bike tours, visit http://www.ciclismoclassico.com or call 1.800.866.7314.
About Ciclismo Classico:
Join a Ciclismo Classico tour and you'll soon find yourself "Pedaling your Passion," a uniquely Italian approach to bicycle travel that embraces La Dolce Vita at every turn and invites you to find your very special passion on every tour. Whether it's soaking in the scenery, learning to make pasta, taking hundreds of photos or learning about Renaissance architecture, you'll re-connect with your own passion with our special native guides who connect you to the culture and landscape like no one else can. Ciclismo Classico transforms a European cycling trip into an eye-opening, life-altering adventure you'll never forget. Come ignite Your Passion and pedal with us!