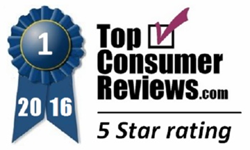 With more than 70,000 registered tutors, WyzAnt is an excellent resource for people looking for academic help.
Overland Park, KS (PRWEB) July 19, 2016
TopConsumerReviews.com recently awarded their highest five-star rating to WyzAnt, an industry leader in Tutors.
Performing well in school is more important now than ever. In addition to the need to genuinely understand the material being taught, a great deal depends on achieving good grades in school. For students who struggle in a particular subject area, or who want to improve their grades to be a better candidate for scholarships and other programs, tutors can be very helpful. Parents who want to match their child with a tutor should carefully consider the methods, location, focus, and cost of any service offered before making a commitment to a particular instructor or program.
"With more than 70,000 registered tutors, WyzAnt is an excellent resource for people looking for academic help," explained Brian Dolezal, of TopConsumerReviews.com, LLC. "WyzAnt's database and website make it easy for people to enter their zip code and subject area, and quickly find a variety of tutors in their area who can meet their needs. Prospective clients can review the tutor's ratings and testimonials from previous students, background checks for those instructors who have opted to have one done, and even hourly rates. Best of all, WyzAnt offers a 100% satisfaction guarantee if a customer is not satisfied with a tutor after their first hour of instruction. WyzAnt easily earns our highest rating for online providers of Tutors in 2016."
To find out more about WyzAnt and other online providers of Tutors, including reviews and comparison rankings, please visit the Tutors category of TopConsumerReviews.com at http://www.topconsumerreviews.com/tutors/.
About WyzAnt
WyzAnt is the largest tutoring marketplace in the U.S., connecting more than 1 million students seeking personalized learning experiences with over 85,000 tutors. Parents and students use WyzAnt to search for and hire qualified tutors in their city, as well as pay for lessons. WyzAnt offers tutors who provide both in-person and online lessons in more than 200 subjects ranging from elementary school subjects to university level curricula. WyzAnt was founded by CEO Andrew Geant and CTO Mike Weishuhn in 2005 and and is backed by Accel Partners.
About TopConsumerReviews.com
TopConsumerReviews.com, LLC is a leading provider of independent reviews and rankings of hundreds of consumer products and services. From Tutors to CPA Test Preparation and Medical Alert Systems, TopConsumerReviews.com delivers in-depth product evaluations in order to make purchasing decisions easier.