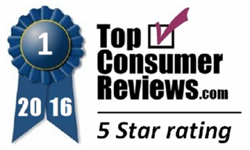 There's no better place to find a tutor than WyzAnt... (they are) the clear winner for Tutors in 2016.
Overland Park, KS (PRWEB) October 03, 2016
TopConsumerReviews.com recently gave a best-in-class 5 star rating to WyzAnt, a leader among online resources for locating and hiring Tutors.
From college students looking for a little extra guidance to master a topic, to parents who want their children to get past a troublesome topic, people are turning to tutors to help them succeed in school. Because educational methods and curricula have changed so drastically over the years, hiring a tutor who is up-to-date both in terminology and content can make the difference between passing and failing, or even getting accepted to that dream prep school or university. Many online services make it easy for students and parents to find the right match with a tutor, whether that help is given in-person or remotely via computer or other device.
"There's no better place to find a tutor than WyzAnt," according to Brian Dolezal of TopConsumerReviews.com, LLC. "With more than 80,000 registered tutors throughout the U.S., WyzAnt can get you the help you need, whether that's for your kindergartener or college student. We particularly like the transparency the site offers with respect to pricing - tutors post their hourly rates, and that's what you pay. Tutor reviews also help prospective customers to see which tutors have been the most successful and might be a good fit for their needs. With no website membership fees, an A+ rating with the Better Business Bureau, and a 100% satisfaction guarantee, WyzAnt is the clear winner for Tutors in 2016."
To find out more about WyzAnt and other online resources for hiring Tutors, including reviews and comparison ratings, please visit the Tutors category of TopConsumerReviews.com at http://www.topconsumerreviews.com/tutors/.
About WyzAnt
WyzAnt is the largest tutoring marketplace in the U.S., connecting more than 1 million students seeking personalized learning experiences with over 85,000 tutors. Parents and students use WyzAnt to search for and hire qualified tutors in their city, as well as pay for lessons. WyzAnt offers students both in-person and online lessons in more than 200 subjects ranging from elementary school subjects to university level curricula. WyzAnt was founded by CEO Andrew Geant and CTO Mike Weishuhn in 2005 and is backed by Accel Partners.
About TopConsumerReviews.com
TopConsumerReviews.com, LLC is a leading provider of independent reviews and rankings of hundreds of consumer products and services. From Tutoring to Nannies and Home School Supplies, TopConsumerReviews.com delivers in-depth product evaluations in order to make purchasing decisions easier.