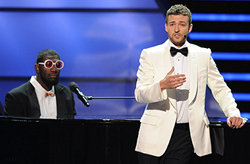 "First he brought sexy back and now he is bringing tuxedos back."
(PRWEB) September 26, 2013
"Mr. JT, now what you got for me; Mr. JT now what you got, what you got?" Style. Class. Sexy. That's what Justin Timberlake got.
Justin Timberlake always looks good on both the stage and the red carpet and never more so than when he is wearing a tuxedo. Now everyone can wear a Justin-style tuxedo, thanks to new stock now available at Tuxedosonline.com.
At the 2008 ESPY Awards, Timberlake wore a classic ivory dinner jacket as he presented the Jimmy V Award for Perseverance. Complementing the jacket, Justin wore a stylish microfiber dress shirt along with stylish studs and cufflinks.
As Timberlake sings in his song Suit and Tie, "As long as I got my suit and tie, I'ma leave it all on the floor tonight." Everyone can leave it on the floor thanks to the new and affordable tuxedos now available at Tuxedosonline.com.
"First he brought sexy back and now he is bringing tuxedos back," said a representative of Tuxedosonline.com.
Justin brought suave to life at the Grammys when he appeared on the red carpet wearing a black shawl lapel tuxedo with a 100% cotton shirt with French cuffs and a bow tie. He accented the outfit with stylish studs and cufflinks and hip black and white tuxedo shoes.
"Any body can dress just like Justin Timberlake thanks to the new stock available at Tuxedosonline.com," said a representative of the website. "These tuxedos are ideal for any occasion, whether it be the red carpet, a black tie dinner or a wedding. So why not follow the lead of one of the icons of Hollywood and the music industry?"
TuxedosOnline.com has available a large selection of beautifully-crafted, stylish tuxedos, suits, sports coats and accessories, including suspenders, tuxedo shoes, cufflinks, hats, pocket squares and more. There are also sections of the website specifically for wedding, prom, homecoming and quinceañera tuxedos.
About:
TuxedosOnline.com has been named "Best of the Web" by USA: Tuxedos since 2008. The web-based vendor is the internet superstore for men's formalwear tuxedo shirts, tuxedo vests and tuxedo uniforms and is one of the oldest companies to sell tuxedos on the internet. They are highly rated on bizrate.com, eBay, and other internet rating services. Although the tuxedo rental industry has reported declines in the amount of rentals for the past few years, TuxedosOnline.com has grown over 40% a year for the past three years.
For the full range of tuxedos, including wedding tuxedos, accessories, shoes, and shirts, as well as the entire MODA Formalwear line, visit TuxedosOnline.com or call (818) 765-9479 or (888) 968-4TUX.