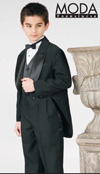 'By purchasing your tuxedo now,' he states, 'you save yourself from the stress of having to purchase your tux last minute. You also can take advantage of some spectacular deals with our new tuxedo sale.'
(PRWEB) February 24, 2014
TuxedosOnline.com is clearing out all old tuxedos for incredibly low prices. This is a remarkable sale, during which men can buy the formalwear they need for weddings, prom, and other black-tie occasions, at a huge savings.
From ties to After Six Men's Tuxedos for only $49.99, every kind of merchandise is being discounted. Discount tuxes are available for men who want a more traditional look, but colored and patterned vests and ties are also on sale and are perfect for those who want to add their own style to a formal ensemble. Colored vests and ties are ideal for men who want an outfit that matches their date's attire.
TuxedosOnline's CEO, Vrej Grigorian, believes that for spring and summer events now is the perfect time to purchase a tux. "By purchasing your tuxedo now," he states, "you save yourself from the stress of having to purchase your tux last minute. You also can take advantage of some spectacular deals with our new tuxedo sale."
TuxedosOnline.com already offers some of the lowest prices available, and these new discounts ensure that men can save even more while still looking great. TuxedosOnline directly manufactures many of their tuxedos and menswear accessories, enabling prices that are comparable to—or even lower than—the cost of rental.
For anyone with styling questions, TuxedosOnline has fashion consultants within phone's reach. Simply dial 1 (888) 968-4TUX and select extension #2. Consultants can help with selecting appropriate styles and colors, as well as the right fabric for any occasion. In addition to tuxedos and men's formalwear, TuxedosOnline also provides menswear accessories, such as cufflinks, hats, suspenders, and more.
About:
TuxedosOnline.com has been named "Best of the Web" by USA: Tuxedos since 2008. The web-based vendor is the internet superstore for men's formal wear tuxedo shirts, tuxedo vests and tuxedo uniforms and is one of the oldest companies to sell tuxedos on the internet. They are highly rated on bizrate.com, eBay, and other internet rating services. Although the tuxedo rental industry has reported declines in the amount of rentals for the past few years, TuxedosOnline.com has grown over 40% a year for the past three years.
For the full range of tuxedos, including wedding tuxedos, accessories, shoes, and shirts, as well as the entire MODA Formalwear line, visit TuxedosOnline.com or call (818) 765-9479 or (888) 968-4TUX.