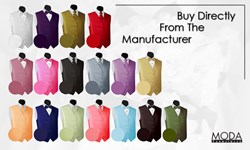 "We have been seeing a significant rise in the sales of our tuxedo vests for non-black-tie events. People are wearing tuxedo vests with suits or without a coat at all."
(PRWEB) December 19, 2013
Due to a recent increase in tuxedo vest sales, TuxedosOnline.com believes the tuxedo vest is the latest men's fashion trend. TuxedosOnline noticed that its tuxedo vests sold faster than usual over the last month and states that this increase is related to the current emphasis on dressing down, opting for a more casual look instead of something more formal.
TuxedosOnline.com's CEO, Vrej Grigorian, states, "We have been seeing a significant rise in the sales of our tuxedo vests for non-black-tie events. People are wearing tuxedo vests with suits or without a coat at all." During holiday gatherings, red vests have replaced Christmas sweaters as a popular choice for informal Christmas attire. Red vests fit with the seasonal spirit, while also remaining casual.
Traditionally, tuxedo vests were only popular for weddings or proms. A few years ago choirs and orchestras began wearing tuxedo vests, and the tuxedo vest quickly became standard attire for these performers. The trend really began to develop at homecoming formals. Tuxedos are not required for these events, and high school boys found that wearing a colored tuxedo vest enabled them to be fashionable and comfortable. In addition, a boy could choose a vest in a color that matched his date's dress.
For those who aren't sure which vest color is best TuxedosOnline.com has fashion consultants available to help with fashion decisions, such as sizing and colors. Simply call 1 (888) 968-4TUX and select extension #2. For those who aren't yet ready to join the tuxedo vest trend, TuxedosOnline also offers tuxedos and many formal wear accessories, including, hats, bow ties, shoes, and much more.
About TuxedosOnline.com:
TuxedosOnline.com has been named "Best of the Web" by USA: Tuxedos since 2008. The web-based vendor is the internet superstore for men's formal wear tuxedo shirts, tuxedo vests and tuxedo uniforms and is one of the oldest companies to sell tuxedos on the internet. They are highly rated on bizrate.com, eBay, and other internet rating services. Although the tuxedo rental industry has reported declines in the amount of rentals for the past few years, TuxedosOnline.com has grown over 40% a year for the past three years.
For the full range of tuxedos, including wedding tuxedos, accessories, shoes, and shirts, as well as the entire MODA Formalwear line, visit TuxedosOnline.com or call (818) 765-9479 or (888) 968-4TUX.