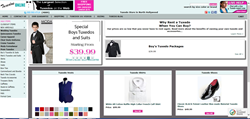 "We know that this is the time when most people need tuxedos, especially for the wedding and prom seasons
(PRWEB) March 28, 2014
With the prom and wedding seasons quickly approaching, TuxedosOnline.com has decided to expand its free shipping offer. Now, orders over $75 are eligible for shipping at no cost. TuxedosOnline already offers some of the best prices for men's formalwear, and this shipping offer will help men save even more on their tuxedos and formal accessories.
TuxedosOnline directly manufactures many of their products, which allows them to offer low prices on high-quality tuxedos and tuxedo accessories. With these low prices, buying a tux is comparable in cost to rental. In addition, by purchasing a tuxedo, instead of renting, men will have an outfit on hand that they're able to use for future formal occasions.
TuxedosOnline is known for offering tuxedos that are soft and luxurious, but the company also offers many other formalwear pieces. Shoes, vests, cufflinks, cravats, and many more formal items are offered online for excellent prices. With an array of colored vests, neckties, and bowties, men can coordinate their outfits' colors with those of the events they're attending.
"We know that this is the time when most people need tuxedos, especially for the wedding and prom seasons," says TuxedosOnline's CEO Vrej Grigorian. "We decided to extend our free shipping offer from $400 to $75 to make sure that anyone, no matter their budget, can be well dressed for these upcoming formal occasions."
TuxedosOnline.com is perfect for fashion savvy men, but has resources available for those who want help with their formalwear purchase. TuxedosOnline.com has fashion consultants readily available who are happy to answer questions about colors, fabrics, styling choices, and much more. To reach TuxedosOnline's fashion consultants, dial 1 (888) 968-4TUX and select extension #2.
About:
TuxedosOnline.com has been named "Best of the Web" by USA: Tuxedos since 2008. The web-based vendor is the internet superstore for men's formalwear tuxedo shirts, tuxedo vests and tuxedo uniforms and is one of the oldest companies to sell tuxedos on the internet. They are highly rated on bizrate.com, eBay, and other internet rating services. Although the tuxedo rental industry has reported declines in the amount of rentals for the past few years, TuxedosOnline.com has grown over 40% a year for the past three years.
For the full range of tuxedos, including wedding tuxedos, accessories, shoes, and shirts, as well as the entire MODA Formalwear line, visit TuxedosOnline.com or call (818) 765-9479 or (888) 968-4TUX.