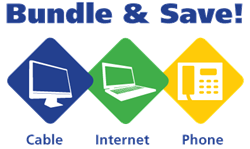 SolveForce Now Offers TV, Internet & VoIP phone services to the Northeast Region of New York
New York (PRWEB) April 12, 2016
SolveForce.com has concluded several meetings detailing their new plan to expand TV, Internet & VoIP phone (http://www.solveforce.com/) services to the Northeast Region of New York. This is a part of their large campaign to offering bundle cable services throughout the country.
A bundle package is a group of electronic services that are offered together at a single low rate. Usually bundle packages include high speed internet, digital TV and home phone service. Companies offer prepackaged bundles as well as customized packages where the customers can choose only the services they want.
Benefits of Home Service Bundles
There are several benefits to getting bundle packages. The main one is the lower price for the bundle of services compared to purchasing each service separately. In fact, buying a bundle package can save customers up to 40% off high speed home phone, high speed internet and digital cable services.
Another benefit of TV, Internet & VoIP phone (http://www.solveforce.com/new-york/) is the billing. All of the services come on one invoice, so there are not three or four bills to pay throughout the month. No chance of overlooking one and getting late fees. If someone's moving, setting up their new home services can be handled all at once with a bundle package. Only one company needs to be called to shift the services to the new location as well as stop the service in the previous location.
Saving you more time and money.
Find Deals on Bundle Packages Available in Your Area
Ready to save up to 40% on your home services?
There are many options available when it comes to home service bundle packages depending on where one lives, whether they need 2 or 3 services and more. SoveForce helps tp quickly compare home service providers, packages and prices to find the bundle that's best for the customer.
To learn more about SolveForce's TV, Internet & VoIP phone (http://www.solveforce.com/services) services, visit SolveForce.com.
About SolveForce
We are committed to your company in every aspect of the customer relationship. If your company needs to contact us for any reason, please don't hesitate to call or email us at the earliest convenience.
By Phone: (888) 765-8301
By Email: ron(at)SolveForce(dot)com
By Website: http://www.solveforce.com