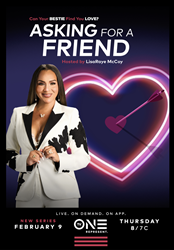 SILVER SPRING, Md. (PRWEB) February 09, 2023
TV ONE is looking to woo dating series audiences with a new slate of programming as part of their "Date Night Thursdays" beginning in February. Kicking off the new slate is a brand-new series, "Asking for a Friend," hosted by LisaRaye McCoy, set to premiere today, February 9th at 8p ET/7c.; followed by the series, "The One" on Thursday, May 18th at 8p ET/7c. The competition series will be hosted by Kirk and Tammy Franklin.
Everyone has a best friend, and whether that friend is a sorority sister, a real sister, a coworker, or even an ex, everyone wants the best for their friends & family. Especially if they're single and looking for love! "Asking for a Friend," hosted by LisaRaye McCoy, on TV One is a modern, self-contained dating show in the vein of Netflix's "Dating Around", in which 2 single best friends looking for love, choose 2 blind dates for each other in every hour-long episode. Then to up the ante, the fun, and the unpredictability, each blind date will be a double date. That's right, 2 besties double date 2 singles - that they've picked for each other - in one evening. "Asking for a Friend" premieres Thursday, February 9th on TV One.
"THE ONE" is a fun, competition dating series, led by celebrity power couple Kirk and Tammy Franklin. The Franklins will share their magic to maintain a healthy relationship with one male and female single who live an exceptional life, except when it comes to dating and finding love. These two singles are both good-looking and successful but have struggled to find that special person. With Kirk and Tammy's advice, are they able to trust the process and put in the necessary work to find THE ONE?
ASKING FOR A FRIEND is produced by Critical Content. The executive producers are Jenny Daly, Matt Pickel and Jacinda Rentrope. Eric Timm and Brandi Magee serve as Co-Executive Producers. Tony Yates is the Head of Production. Sammy Yamada and Niki Millerare the Executives in Charge of Production for Critical Content. Austyn Biggers is the Senior Vice President of Programming and Production and Allison Simmons is the Executive Producer in Charge of Production for TV One.
For more information on Date Night Thursdays visit TVOne.tv.
ABOUT TV ONE NETWORKS
TV One Networks is the hub of black culture and entertainment with a broad offering of original programming and classic series, serving both diverse audiences for TV One and CLEO TV. Launched in January 2004, TV One currently serves 47 million households and CLEO TV, launched in January 2019, is the sister network with a 42 million household reach. Each network has a unique audience that serves viewers with fan favorites from TV One such as Unsung, Uncensored, Fatal Attraction, Payback, Tough Love: Atlanta, Never Would Have Made It: The Marvin Sapp Story and Urban One Honors. While, CLEO TV, a lifestyle and entertainment network targeting Millennial and Gen X women of color, delivers content that uplifts and inspires today's modern-day woman. Viewers of CLEO TV can expect award-winning content in both original and acquired series including Boss Girl's Guide, Culture Kitchen, New Soul Kitchen, Just Eats with Chef JJ, Global Gourmet, Living By Design, Tia Mowry's Quick Fix and All Things Adrienne House to Home. Both networks are solely owned by Urban One, Inc., formerly known as Radio One, Inc. [NASDAQ: UONE and UONEK, http://www.urban1.com , the largest African-American owned and operated multi-media company.
About Critical Content
Critical Content is a leading global independent content studio. Launched in October of 2015, the company focuses on unscripted and scripted programming for broadcast, cable and digital platforms. Critical Content currently has more than 50 projects in production for more than 30 different networks. Recent series include "Catfish" (MTV), "Celebrity Game Face with Kevin Hart" (E!), "Get Organized" (Netflix), "Instant Dream Home" (Netflix), "Black Woman OWN the Conversation" (OWN), "Ginny & Georgia" (Netflix) "Very Cavallari" (E!), "The Blended Bunch" (TLC), "Extreme Unboxing" (A&E), "The Great Food Truck Race" (Food Network), "Disney's Fairytale Weddings" (Freeform), "Racing Wives" (CMT), HOME FREE (FOX), "American Spring Live" (PBS), "Portals To Hell" (Travel), "Hanging With The Hendersons" (Animal Plant), "StartUp" (Crackle, Amazon), and "Limitless" (CBS).