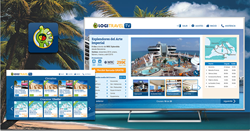 "thanks to TV App Agency and Logitravel TV, thousands of people will discover the best custom-made travel packages for their budgets, without leaving their own sofa."
London, UK (PRWEB UK) 3 September 2015
TV App Agency, leaders in OTT application development have deployed Logitravel, the next generation travel service onto all major Smart TV platforms and connected devices as part of their digital expansion across Europe.
Logitravel is an online travel agency specialising in holidays, offering a large range of travel products and services: package holidays, hotels, flights, car hire and more. The apps are synchronized with the Logitravel website so customers don't miss out on the latest deals.
The Logitravel apps have been developed by TV App Agency using the award winning TV App Engine which is a unique cross platform app compiler. The engine generates fully customised, native applications for over 100 supported platforms from a single set of code removing the challenges faced with platform fragmentation and having to develop separate applications for every desired platform.
Miguel Abril, Head of mobile at Logitravel said, "At Logitravel, we believe that we have to be on every platform that our customers are. At first we had the web, then came the Smartphone apps and now with Smart TV apps, there is no exception. Now thanks to TV App Agency and Logitravel TV, thousands of people will discover the best custom-made travel packages for their budgets, without leaving their own sofa."
Users of the Logitravel applications can browse through a range of cruise holidays with itinerary details, images and videos available. They can then schedule for an agent to call them back for further details and to book their holiday.
"Smart TVs are the centre of entertainment for modern families, the Logitravel apps will provide a great way for families to sit down together and choose their next beach holiday or cruise," said Bruno Pereira, TV App Agency Co-Founder and Director.
Applications for Logitravel are available to download on all major Smart TV platforms including Samsung Tizen, Philips, Panasonic, LG Web OS, EE TV, Android TV, Fire TV, Foxxum, Netrange, Netgem and more. For further information please visit Logitravel - http://www.logitravel.tv/
TV App Agency will be exhibiting at IBC in Amsterdam from 11th to 15th September, DTG Stand A17 Hall 5, See the unique TV App Engine as part of the DTG Television Innovation Awards Grand Final during IBC. For further details visit http://www.tvappagency.com/ibc2015 or email contact(at)tvappagency(dot)com.
About TV App Agency
TV App Agency are leaders in cross-platform OTT app development, providing broadcasters, operators, VOD services and content owners the ability to launch their OTT services worldwide across Smart TV, set-top boxes, media streaming players, gaming consoles, mobile, tablet and web using our award winning TV App Engine technology.
The TV App Engine is a 'develop once/deploy to many' cross-platform app compiler which enables us to generate fully customised, native applications for over 100 supported Smart TV and connected TV platforms. Industry leading partner technologies such as OVP's (thePlatform, Brightcove, Ooyala), Analytics (Google Analytics) and Payment Solutions (Paywizard) and more are integrated into the Engine to provide customers with a market leading end2end OTT solution.