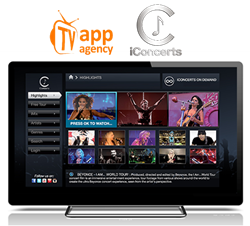 Through our collaboration with TV App Agency, iConcerts music content has now become available through a state-of-the-art 3rd. generation Smart TV App
London, UK (PRWEB UK) 28 January 2015
iConcerts is the world's largest live music video library featuring live performances from legends such as Bob Marley, Eric Clapton, Stevie Wonder, Mark Knopfler (Dire Straits) and Phil Collins through to some of today's greatest artists like Metallica, Queens of the Stone Age, Jamiroquai, The Black Eyed Peas and Kings of Leon.
iConcerts is a subscription based video-on-demand service (SVOD) which gives subscribers access to over 1500 different concerts with a huge range of artists and a variety of genres to choose from. The iConcerts Smart TV app has some exciting features such as creating your own live music playlists, iMix also features a selection of playlists like "best of the 80's" and "best of alternative".
TV App Agency, the developers behind the Smart TV apps have brought iConcerts onto all the leading Smart TV platforms across the globe with the use of their award-winning TV App Engine cross platform app compiler. The 'develop once/deploy to many' technology enables developers to generate native apps for over 100 different platforms from a single set of code. Brands launching their OTT/TV everywhere services are able to maximise their reach and reduce their development costs with this unique technology.
Bruno Pereira, Director and Co-Founder at TV App Agency said "iConcerts offers a huge range of music and live entertainment. We are pleased to have been able to make this service accessible worldwide across multiple platforms as consumers have now come to expect."
"Through our collaboration with TV App Agency, iConcerts music content has now become available through a state-of-the-art 3rd generation Smart TV App designed by iConcerts and developed by TV App Agency for, among others, the Samsung, Panasonic, LG, and Sony platforms. This marks our completion of rolling out iConcerts with all major Smart TV brands in the market." says Mathieu Sibille, CEO of iConcerts.
iConcerts provides a seamless experience across connected devices allowing users to enjoy a huge library of live music anytime, anywhere on smartphone, tablet, PC/Mac and TV. The app is available to download on Samsung, Panasonic, LG, Philips, Opera TV, Toshiba, Netrange and Foxxum Smart TVs as well as the new EE TV set-top box. To find out more about iConcerts visit http://www3.iconcerts.com/.
About TV App Agency
TV App Agency works with leading brands to help them understand, plan, develop and succeed with their apps on a wide range of connected devices. The TV App Engine is a 'develop once/deploy to many' cross platform app compiler that is available as a Software as a Service (SaaS) offer and which delivers low cost, maximum reach, faster to market apps for brands through the generation of a single source code to deploy and maintain across most Smart TV platforms and connected devices. Visit http://www.tvappagency.com for further details.
About iConcerts:
iConcerts, owned by Swiss-based Transmedia Communications, is a pioneering cross-media entertainment channel dedicated to live music. iConcerts is the first 360° content provider dedicated solely to live music which features the world's largest library of live music concerts, TV shows and documentaries. Driven by its ambition: to share a new live concert experience with anyone, anywhere, iConcerts was designed for distribution across all available digital screens: iConcerts HDTV channel, VOD, Connected TV, mobile applications for tablets, smartphones and PCs. iConcerts HD has established itself as the first HD TV concert channel in Europe and has recently spread to Africa & Asia. The iConcerts VOD services are available for all digital content delivery platforms such as IPTV, web, OTT and mobile. The offer is available in more than 140 countries worldwide.