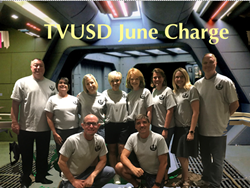 "The ESS team in TVUSD is proud to support our students by building the capacity of our amazing school leaders," shared Deputy Superintendent McClay. "We believe our team of principals and assistant principals in Temecula Valley Unified School District is the best!"
TEMECULA, Calif. (PRWEB) July 25, 2019
The Temecula Valley Unified School District (TVUSD) completed another successful school year in June, with exceptional levels of student achievement, a stellar graduation rate, and increased numbers of students taking rigorous coursework to be prepared for college and career. However, "the district is committed to continued growth in all areas and works tirelessly to ensure that we continue to progress," shared TVUSD Deputy Superintendent Jodi McClay.
In an effort to establish goals and plan for staff development in the 2019-2020 school year, the TVUSD Educational Support Services division, under the leadership of McClay, facilitated a "New Year Charge" by taking all principals and assistant principals on a planning retreat to Palm Springs. "We have found that by reflecting on the previous year's successes and addressing areas of need prior to summer break, site leaders have an opportunity to continue reflecting and planning over the summer and come back re-charged, ready, and excited to begin the next school year," added Deputy Superintendent McClay.
A great deal of work is involved with getting ready for the oncoming school year. Principals must review a great deal of data from the previous year to align new goals and efforts. "Working in teams with their colleagues, in a fun place that is away from their school sites, allows them to collaborate, focus, and get a lot of work done before heading out for their brief summer breaks," added McClay.
While all 27 schools within the TVUSD continue to exceed both County and State student achievement levels, the June Charge is just one example of the TVUSD's commitment to its leaders. "We know that the school leader has a direct correlation to increased student achievement, so it is essential that we invest in the ongoing professional growth of our principals and assistant principals, shared McClay." In fact, the impact of these leaders on student learning is second only to classroom instruction, and yet by hiring, training, and supporting teachers, these site leaders can have the most influence on what occurs within each classroom. "TVUSD understands the critical role of our site leaders and continues to have a comprehensive program that supports them, including our June Charge," McClay added.
This year's event utilized a Star Wars theme, complete with group activities, team shirts, and competitions that had administrators reflecting on strengths and weaknesses, analyzing data, setting goals, and more, all while having fun. "2020: Our Vision, Their Reality" was the mantra, as leaders were inspired and led through the process of planning for 2019-2020. "One of the highlights of the event was a nationally-renown keynote speaker – Kevin Honeycutt – who spoke from the heart about his experiences as an at-risk youth and challenged participants to learn the stories behind every student on their campuses," shared McClay. He was so inspirational and well-received that 11 sites will be bringing him back to share the work with their teachers in September.
"The ESS team in TVUSD is proud to support our students by building the capacity of our amazing school leaders," shared Deputy Superintendent McClay. "We believe our team of principals and assistant principals in Temecula Valley Unified School District is the best!"