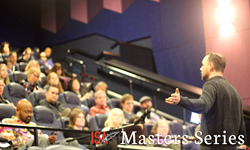 I love the ISA! [They are] great people who are working so hard for writers, to make writers' lives better, to provide more information, and to provide more opportunities.
Chicago, IL (PRWEB) April 05, 2017
The International Screenwriters' Association (ISA), founded by Chicago native Craig James Pietrowiak, is bringing their Masters Series Seminar "TV Weekend: From Concept to Studio Deal" from Los Angeles, California to Chicago, Illinois, on May 5, 2017, where a weekend filled with information on building a television-writing career will occur.
The seminar, better known as simply "TV Weekend," will include discussions about breaking down story, pitching a pilot, and building a TV career within the Chicago film industry as well as Hollywood. Writers will hear from top Hollywood screenwriting coaches, Jen Grisanti, Lee Jessup, Corey Mandell, and ISA's Director of Outreach & Education Max Timm, along with pitch panel executives from the Chicago film industry, including Producer Angie Gaffney, TV Producer and Award Winning Writer Craig J. Harris (Chicagoland, The First 48), and Producer Matt Abramson (Teachers).
Pietrowiak says, "I may live in LA now, but my heart beats CHICAGO! We're thrilled to be sharing TV Weekend with this city's filmmakers and writers. It takes a lot to break into the film industry, but if you have a passion for film and TV, then keep developing as a storyteller and never give up. The ISA is happy to be contributing to the growth of writing careers through this TV Weekend seminar and our many resources."
Founder Craig James Pietrowiak, an award winning writer, director and producer (and avid CUBS fan) grew up on the north side of the Windy City as well as the Vernon Hills suburbs and graduated from Northern Illinois University. After his TV pilot "Wrigleyville" was noticed by a major Hollywood agency, which lead to literary representation, Pietrowiak moved to Los Angeles where he chose to stay. After some time in LA, finding difficulty in uncovering helpful resources to develop the craft, he started the ISA in 2008 to make it easier for screenwriters to find the tools necessary to launch their career.
Career Coach Lee Jessup says, "I love the ISA! [They are] great people who are working so hard for writers, to make writers' lives better, to provide more information, and to provide more opportunities."
ISA Masters Series TV Weekend: "From Concept to Studio Deal" will take place May 5-7, 2017 at Columbia College Film Row Cinema. For details regarding seminar registration or other ISA events please visit: http://networkisa.org/events.php
Note to Editors:
About the ISA
The International Screenwriters' Association's mission is to help every writer tell their stories brilliantly by honing their individual talent, sharpening their distinctive voice, and guiding them to breaking into the film industry. Founded by an indie filmmaker who understands that there are many different roads to success, the ISA provides the resources necessary to propel your screenwriting career with listed writing gigs, podcasts, mentors, and more. The newest addition, the ISA Development Program, has helped numerous writers gain representation or option deals in just the past 18 months. Membership is Free. http://www.NetworkISA.org
Follow ISA on FB, TW, IG: @NetworkISA