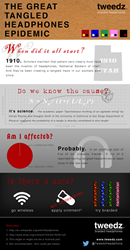 Tweedz product design is about more than just fashion. The high quality nylon braiding reduces wire tangles, increases durability, and is long enough that you can comfortably keep your ipod in your pocket
Dallas, Texas (PRWEB) December 16, 2014
Tweedz has expanded its line-up of tangle free headphones to include black and blue braided earbuds. Popular among musicians and travelers for their durability, tangle-free design, retro style, and premium sound quality, Tweedz now come in 5 color combinations:

Red with black and yellow accents (Tweedz has brought back their best-selling red earbuds based on customer demand)
Green with black and yellow accents
Pink with black and white accents
Blue with white and black accents
Black with red accents
Designed by a lifelong musician/producer, Tweedz are specifically created for musicians and travelers. The vintage guitar cable inspired design offers the durability a touring musician expects and the full range frequency response provides deep bass and clear highs - the way music was meant to be heard. And for the traveler, the braided wire keeps headphones tangle free while the noise isolating earbuds block out background noise.
While far from epidemiologists, Tweedz has also released an Infographic called 'The Great Tangled Headphone Epidemic' detailing what they believe is the bubonic plague of this generation – tangled headphones!
To amplify the launch, Tweedz is offering customers a 15% discount on all orders made before Jan 1, 2015. Offer details are available on the Tweedz blog.