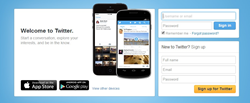 Twitter is the biggest social platform for building a real-time presence that is perfect for creating a loyal fanbase
(PRWEB) May 08, 2014
AppsGeyser is the market leader in free Android app templates, but it does not stop there, AppsGeyser continues to support their app makers even after they have completed the app creation process. AppsGeyser has been a vivid advocate of social media marketing and it has continued to be proven through research undertaken by AppsGeyser that this form of marketing is paramount to ensure that a business reaches its full potential.
Twitter is often discounted quickly by new marketers as it is a platform that takes a little bit more effort at the beginning, but AppsGeyser has seen that a tweet a day can make the difference between an app succeeding and an app failing. Social media is the modern day version of word of mouth marketing, a message sent through a tweet can quickly go viral and reach hundreds of thousands of potential app users.
Twitter is a real-time platform, meaning that it is possible to get involved in conversations that are happening right now, it is the way to get your voice heard and get known in a chosen industry by sharing industry based knowledge with others. Building networks in this informal manner will help to build a loyal fan base that will increase the chances of Android app success.
"Twitter was not a platform of choice for me initially," states Mohammed Mahmoud, "The whole process looked too complicate, but I soon built up a circle of followers and began to get into conversations, with Twitter on my mobile phone, I can keep up to date with conversations when I am not even in the office."
"Android app success is an important part of our business, we therefore continue to research different marketing trends that can help our app makers," explains Vasily Salomatov. "Twitter is the biggest social platform for building a real-time presence that is perfect for creating a loyal fanbase."
About AppsGeyser
AppsGeyser, launched in February 2011, is now the biggest Free Android App Builder on the market. AppsGeyser's popularity has risen by enabling users to create apps with ease for Android devices from any web content in under five minutes. AppsGeyser has seen more than 922,000 apps created on its platform. There have been more than 68 million downloads of its apps.