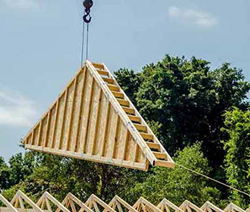 "It (Eden Gardens of Eden Prairie) can spur the idea for other neighborhoods. This will be a successful, innovative development that will be good for the community." ~ Councilmember Kathy Nelson
Minneapolis, Twin Cities Minnesota (PRWEB) August 06, 2014
Residential permitting in the Twin Cities brightened July's Home Builder reports with permits tallying above any month since October 2013. The number of Minneapolis - St. Paul building permits pulled in July of this summer was shy of last year's numbers, according to the Builders Association of the Twin Cities Keystone Report, while home remodeling projects are up.
"Residents in the Twin Cites like a home that heats up well in the winter and stays cool in the summertime, which is best achieved by the green home practices adopted by Twin Cities home builders," says Jenna Thuening owner of Home Destination. "Permits approved for both the Green Home North Project in the City of Minneapolis and Eden Gardens in Eden Prairie will offer more green home options to home buyers."
Planned units show a near 30 percent improvement in July 2014 over July 2013, and close to 14 percent over year-to-date. Permits for the month, however, persist below 16 percent if comparing levels of permits issued in July 2013, and year-to-date are still almost four percent below this time in 2013. Permits tallied at 2,800 this year versus 2,912 in July of 2013. However, the number of permitted units topped at 5,585 over last years 4,914 level. Additionally, the permitted value of 1,074,018,029 for July 2014, is higher than the 1,074,018,029 permitted value amount found in July of 2013.
According to a new study "Green Multifamily & Single Family Homes: Growth in a Recovering Market", published by McGraw Hill Construction, builder and re-modeler members of the National Association of Home Builders (NAHB) , green building for single-family homes has taken a larger slice than ever of the remodeling industries dollars. The Twin Cities home builder activity report for summer 2014 gives further insights into the rate of consumer interest in greener homes.
The study indicates a solid uptick in national percentages of green building for residential single-family homes. Due to demand and the tremendous volume of work available, builders recognize the logic of tipping in favor of constructing more green homes. NAHB determined that 73 percent of single family builders and 68 percent of multifamily builders anticipate that prospective home buyers will pay more for green homes.
NAHB's bold statement asserting that the power of the green housing market is also driving Minneapolis home builders who are shifting in favor of building green single-family homes, especially those who build more than 90 percent of their projects green. According to NAHB, currently near 19 percent nationally fall in this category, which is predicted to double to 38 percent in four years.
Published June 26, the Sun Current article Green neighborhood on its way to Eden Prairie announced: "The Eden Prairie City Council approved the green development project, which marks the first Builders Association of the Twin Cities (BATC) green path advanced certified development in the Twin Cities". The city of Eden Prairie MN is successful in its pursuit of purchasing land from the Minnesota Department of Transportation for the purpose of building a green single-family housing community. The project is cutting edge among Minneapolis metro home builders with an increased focus on greener homes at affordable single-family housing price points.
Efficient use of building material and resources in another aspect of building residential homes in Twin Cities. Home Builders are encouraged to remove 65% of construction waste from job sites and recycle it in the GreenPath North Project to meet green standards. Approximate 1/3 of homes in the Green Home North homes projected are located in the Hawthorne Eco Village, with a heavy building schedule throughout the remainder of the summer.
Minnesota became the first state in the nation to adopt a value-of-solar system in March of this year, according to the April 9th, 2014 article titled The Method and Meaning of Minnesota's New Value of Solar Policy. Competition among energy providers is stiff for who will provided services for the new homes.
"Home buyers appreciate the increase in real estate listing available to choose from as new homes come on the market," adds Thuening. "The bustle of summer home builder activity across the Twin Cities is a welcome part of seasonal sounds and sights indicative of a progressive housing market recovery."
About Home Destination - Twin Cities Real Estate:
Home Destination offers a loyal and committed real estate professional service that personally handles all the details of selling or purchasing a Twin Cities home. Highly regarded by peers as a Minneapolis metro expert for over 15 years, gain a skilled representative as guide to make the best possible housing decisions.
Contact:
Jenna Thuening
Web. http://www.homedestination.com
Email. jenna(at)homedestination(dot)com
Tel. 612-396-7832