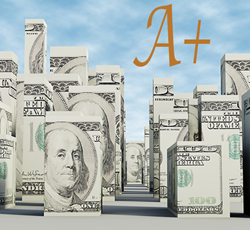 "Lenders are easing down payment and credit score requirements while adhering to conforming loan guidelines. As the private securitization market starts to bounce back, borrowers who didn't qualify in the past may now have that chance." ~ Lending Tree
Minneapolis, Minnesota (PRWEB) October 15, 2013
Lending terms are easing up for home loan applicants who have superior credit. According to a recent analysis by Ellie Mae, a California mortgage company, credit-score and down-payment requirements have loosened. A national sample of mortgage loans closed in August showed an average FICO score of 734 for approved borrowers, down from an average 748 credit score found in 2012. FICO scores range from 300 to 850, with higher being better, with a top score long sought after when buyers seek how to prepare their credit score to buy a home.
"Housing analysts may be surprised by the credit score easing, and believe it may signal a promising shift for prospective homebuyers. Overall that seems to be true; however, lending is still tight for many. Plenty of prospective Twin City home buyers, whether they do or don't have a top credit score are still waiting to gain home financing to move ahead and close on the home they hope to buy," says Jenna Thuening, owner of Home Destination. "Before you start shopping for a home, it's important to get familiar with your credit reports and credit scores."
Lenders are also approving more loans for buyers whose credit scores are below 700, according to Jonathan Corr, the president of Ellie Mae. "About 31 percent of loans in August had scores less than 700, compared to 15 percent a year ago," he said. At the same time, the loan-to-value ratio — the loan amount expressed as a percentage of a home's value — rose a bit, meaning that banks were willing to lend more and require smaller down payments. The average ratio was 82 percent in August, which reflects a down payment of 18 percent, about three percentage points lower than last year's average.
"The Ability to Repay/Qualified Mortgage regulation will become fully in effect January 2014. Perhaps this easing in needing a top credit score to buy a home is offsetting the upcoming tightening by improving bank's additional willingness to offer higher loan to value (LTV) loans. Time will show just how this may benefit the average Twin Cities single family home buyer in addition to jumbo borrowers," commented Thuening.
David H. Stevens, the president and chief executive of the Mortgage Bankers Association, agreed that better credit score expansion so far has applied only to better-qualified borrowers. He noted that jumbo loan volume was up significantly, while lower-loan-balance mortgages $150,000 and under were declining. "Those are a proxy for first-time buyers, buyers with more marginal qualification standards," he said.
However, ability to buy a home with quality loan is no easier for applicants with low FICO scores. Erin Lantz, Zillow's director of mortgages, said "If you look at the borrowers on the fringe, credit is not any easier to get now than it was three years ago. Despite the improvement in the economy and homes being incredibly affordable and mortgage rates at all-time lows, still about a third of Americans are shut out of the market." Her comment given to New York Times and reported in Rewarding Top Credit Scores addresses home borrowers with credit scores below 620, which is proximately about 28 percent of all U.S. citizens.
Inman News is predicting that as mortgage rates rise and the ability to refinance cools, "lenders may get more aggressive about competing for business from homebuyers, loosening their underwriting standards in the process". The impact of home price increases and refinance activity slowdowns means that government program changes may come about as potential borrowers finding it easier to gain access to credit. LendingTree CEO Doug Lebda said in a statement to Inman News, "That's because lenders are easing up on down payment and loosening credit score requirements, while still adhering to conforming loan guidelines".
Home Destination helps Twin Cities home buyers through the process of finding the right Minneapolis / St Paul real estate listings, negotiating, and closing successful on a new home. Home Destination is built on the promise of exceptional customer service. To gain a Twin Cities real estate buyer consultation or a home buyer's quote, call 612-396-7832.