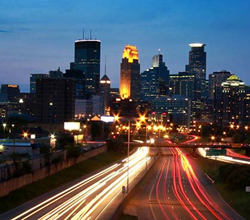 "(Home) sellers find themselves in a strong position and buyers have more choices." ~ TwinCities.com
Minneapolis, MN (PRWEB) July 16, 2014
The Minneapolis - St Paul metro housing market has just experienced 28 straight months of median home price gains as fewer distressed property listings comprise an increasingly shrinking portion of home sales. Metro median home sales price increased 4.7% to $219,900 in the month of June, according to the Minneapolis Area Association of Realtors (MAAR). This is encouraging Twin Cities home sellers to jump into housing market activity and enjoy the benefits.
"We are seeing both cash homebuyers and buyers with financing quick to take advantage of the Twin Cities home price growth. With the strategy to buy a home for equity gains, buyers are investing in a Twin Cities home to generate returns," says Jenna Thuening, owner of Home Destination. "Both home buyers and Twin Cites real estate sellers have unique advantages they can leverage as we head into the second half of 2014."
In June, distressed properties made up 9.5 percent of available real estate listings and 12.6 percent of closed sales, the lowest numbers since 2007. With fewer distressed properties driving down home prices, home price growth has remained positive, according to MAAR.
Twin Cities Investors also gained the following insights from CoreLogic's Home Equity Report for Q1 of 2014:

The national average of Home Equity Share is 87.3%; the Twin Cities stand ahead at 90.3%.
The national average Loan to Value is 60.8% and the Minneapolis metro ranks at 63.5%.
The national Near to Negative Equity Share (100% - 105%)is 2.4% and the Twin Cities is 2.5%.
The national Near to Negative Equity Share (95% - 100%)is 3.2% and the Twin Cities is 3.3%.
MetroStudy's latest focus on the Twin Cities housing market says housing norms experience both good times and bad times. Twin Cities home price growth definitely represents positive times. "This creates some balance in what has otherwise been an unbalanced market for much of the last 10 – 15 years. Simply put, today's housing market is healthier than it has been in over a decade."
The strength of the housing market is often told in how strong consumer demand for housing is. One example of how fast some Twin Cities homes sold this spring is found in a May 26, 2014 article titled Top Residential Transactions: Mid-century lake home sells for $2.515 million. A more traditional home of modest size, the home gained multiple offers and skipped the norms of selling after being listed.
Individual and investment homebuyers with financing or cash are snapping up prime Twin Cities real estate listings. Less credit worthy buyers face challenges to compete. Twin Cities talked yesterday about the 'unintended consequence' of risky mortgages. Some would-be homebuyers who are seeking a mortgage find that lenders are withdrawing from lending to to applicants with college debt or less than stellar credit. "Banks won't go near those customers because, in our opinion, the severity of the penalties that they paid," said Gerard Cassidy, a managing director and analyst at RBC Capital Markets.
Home Destination has helped Minneapolis real estate buyers of all ages make housing decisions for over 15 years. For a personalized approach to buy or sell a home with guidance from a strong Twin Cites residential home sales expert, call Jenna Thuening at 612-396-7832.