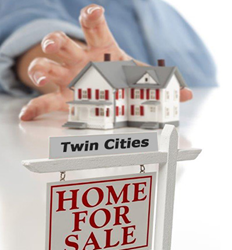 The housing market, like the broader economy here in Minnesota, is experiencing a healthy and moderate slow, sustainable growth recovery. ~ said Michael Hunstad, president of the St. Paul Area Association of Realtors.
Minneapolis, Twin Cities Minnesota (PRWEB) September 12, 2014
The median home sales price in the Minneapolis metro rose to $219,001 in August, reversing a brief interruption in upward home price trends that appeared in July and continues an overall positive trend in higher home price appreciation. As home price increases in the Twin Cities show stability, prospective Twin Cities home buyers are reaching deep to buy another home. According to a new Minneapolis Area Association of Realtor (MAAR) report, this maintains a 7-year high and shows steady housing recovery progress.
"Just as Minnesota temperatures and leaf colors are changing, likewise shifts in home sales in the Twin Cities are trending with seasonal changes. The market seems remarkably buoyant to record upward movement in both the number of real estate listings and home price appreciation, even though home sales are down," says Jenna Thuening, owner of Home Destination.
August recorded 5,291 home closings in the Twin Cities 13-county metro area, which is 7.3 percent under last years number, according to the Minneapolis Area Association of Realtors. The median sales price for the Minneapolis and St. Paul 13-county metropolitan area was $219,001 in August, gaining 5.3 percent over August 2013. Regardless of lower numbers in overall home sales, home sellers gained a median price at closing with 5.3 percent improvement. The average median sales prices in the Twin Cities benchmarked at $219,001, recording the 30th consecutive monthly uptick and the highest median home sales price for any August since 2007.
Overall closed sales were down 7.3 percent, year-on-year, to 5,291 last month from 5,705, but with fewer of those were lender-mediated, or distressed, sales, data from the St. Paul and Minneapolis area associations of Realtors show.
In 2013, approximately 21 percent of all metro home closings were lender mediated one year ago, while in August 2014 that percentage was 10.58%. Lender mediated, or buyers who purchased distressed properties in the Twin Cities are either foreclosed home sales or short sales, where the Twin Cities home seller's mortgage balance owed exceeds the home's value. These properties can drag down median prices. But their share of the market is in a steady decline since the housing bust drew to a close. Home closings in this category dropped in August to 50.4 percent for foreclosures and 58.0 percent for sold homes in short sale.
A welcome increase of 9 percent in additional real estate listings available to choose from on the market creates home shopping conditions that are more even. "The market is still rebalancing," remarked Emily Green, president of the Minneapolis association, in a news release. "Buyers and sellers really need to dig into their particular market segment and location with their agent to get the best information, because the overall picture is shifting and that can cause confusion."
Housing inventory in the Twin Cities pushed upward by 8.7 percent over the same month in 2013, reaching 18,205 homes listed for sale. New real estate listings were unremarkably changed, increasing a mere 0.1 percent to 6,958, where overall housing market pending home sales lowered 7 percent to 4,802.
The level of foreclosed homes in the Twin Cities metro has improved to near prerecession numbers, which is a positive stride for struggling homeowners in Minneapolis residential neighborhoods formerly troubled by vacant homes and declining property values. One positive result of fewer huge discounts in original home price listings is that sellers can expect better competition and chances to receive their full asking price. We see dwindling numbers of out-of-state residential investors in Twin Cities real estate as listings that fit the category of bargain fixer-upper homes are slimmer.
"As we are experiencing an overall positive trend in higher home price appreciation across the Twin Cities metro, both home sellers and buyers find advantages," adds Thuening.
About Home Destination - Twin Cities Real Estate:
Home Destination offers a loyal and committed real estate professional service that personally handles all the details of selling or purchasing a Twin Cities home. Highly regarded by peers as a Minneapolis metro expert for over 15 years, gain a skilled representative as guide to make the best possible housing decisions. Helping all ages, from Millennial home buyers to retiring seniors, Jenna Thuening offers the real estate experience buyers and sellers benefit from.
Contact:
Jenna Thuening
Web. http://www.homedestination.com
Email. jenna(at)homedestination(dot)com
Tel. 612-396-7832