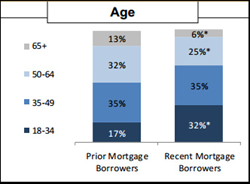 "Real-estate investors are particularly interested in where the younger generation of homebuyers are headed, and in 2014 Twin Cities in Minneapolis will likely see increased home buying activity in this real estate sector." ~ Jenna Thuening
Twin Cities, Minnesota (PRWEB) February 06, 2014
The Twin Cities housing market is one of the top housing markets where younger home buyers are moving out from living with parents and in-laws to strike off and buy their own home in the Minneapolis metro, according to the National Association of Home Builders (NAHB).
"The Twin Cities is seeing more Millennials leaving their parents' home and establishing their own households. Most Millennials younger than 30 are seeking to buy homes in downtown areas where they can easily commute between work, recreation, and their evening social activities," says Jenna Thuening, owner of Home Destination. "Twin Cities young adult homebuyers are placing a higher priority on living in a desirable location over having more square footage in their living space."
Taking a look behind today's news, the latest NAHB Economics research shows that the percentage of potential Millennial homebuyers ages 18 to 34 living with parents or parents-in-law rose dramatically in the late 2000s. The American Community Survey (ACS) survey reports that one in three young adults ages 18 to 34, or greater than 24 million nationally, lived in homes of their parents or parents-in-law in 2012. In contrast, the 1990 and 2000 Censuses housing data shows that merely one in four young adults ages 18 to 34 lived with their parents in that time period.
The housing reports indicate that a major shift in the preferences of young adults to live with parents occurred after 2005. This is notable accurate for older young adults, between 25 and 34 years of age; this percentile living with parents was hovering at approximately 12 percent from 1990 through 2005 and then subsequently spiked to exceed 19 percent in 2012. The younger group of homebuyers, ages 18 to 24, was more likely to live with parents in 1990, when more than half lived with parents, than in the early 2000s. At change occurred by 2006 when this sector surpassed 50 percent once more and mushroomed to over 57 percent in 2012.
While there is a national trend of young adults moving back in with mom and dad to save money, pay off school loans or stay for a while, the Twin Cities metro saw higher numbers of Millennial homebuyers in 2013. Nationally, trending finds more sons and daughters returning to live at home than in any period since the 1950's. A new housing data summary from the Pew Research Center states that 39 percent of young people between the ages of 18 and 34 living with their parents. In August 2013, Pew Research found that "Looking at longer term trends, the analysis finds that the share of young adults living in their parents' home was relatively constant from 1968 (the earliest comparable data available) to 2007, at about 32%.
In the current Minneapolis-St. Paul, MN - Local Housing Data - Buyer Profile, Builder reports that 21.47% of the Twin Cities population is comprised of individuals age 18 to 34. Young adults carry a larger-than-size impact on housing in that they made up 32% of all home purchases.
"There are growing signs that the path from suburban to urban is one more and more young couples are preparing to follow — with immense consequences for both cities and suburbs." ~ Star Tribune January 5th article titled In Twin Cities Metro, More Young People are Moving to the Urban Core, While Suburbs Age. What we are seeing fits Fannie Mae's comment in the January 2014 National Housing Survey that "recent mortgage borrowers are younger, more educated, and earn higher incomes than prior mortgage borrowers". Younger adult home buyers age 18-34 previously made up 17 % of all home buyers and in this survey.
Home Destination is a Twin Cities Realtor with over 11 years of helping hundreds of families throughout Minneapolis - St. Paul residential housing communities make the right decisions when buying or selling a home. To engage a skilled Twin Cities real estate agent, call 612-396-7832 and ask for Jenna Thuening.