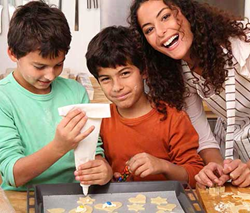 "Ultimately, the large millennial generation will make their presence felt in the owner-occupied market." - Daniel McCue
Twin Cities, Minneapolis Minnesota (PRWEB) June 29, 2014
With limited resources, many potential Twin Cities Millennial homebuyers remain young adults who reside with their parents to save up money to buy a home, which resonates with research released by Harvard. Millennials and aging baby boomers will drive household formation in the coming the decade.
"If future Twin Cities housing market swings lean towards a buyers market, sellers in the middle of the market, will want to sell one home and move up to the next home that is more suitable," says Jenna Thuening, owner of Home Destination. That means they will need more financially qualified buyers available, which will be dependent on a strong pool of Millennial age home buyers.
The U.S. housing recovery should be able to continue strengthening regardless of momentous challenges, concludes The State of the Nation's Housing Report released by the Joint Center for Housing Studies of Harvard University. Anyone who has applied for a funding to make it possible to buy a home has been faced with tight lending practices, the need for better employment opportunities, and help managing student's mounting school debt. All three are keeping Millennials and other first-time homebuyers from reaching their dream of owning their own home.
"The housing recovery is following the path of the broader (economic recovery)," says Chris Herbert, research director at the Joint Center for Housing Studies. "As long as the economy remains on the path of slow but steady improvement, housing should follow suit." And contrary to former Millennial buyer personas, "millennials (like gen-Xers) are shaping up to be less footloose than earlier generations". They merit a key focus in future housing related policies and decisions.
By 2025, according to Harvard's demographic drivers in the report, minorities will make up 36 percent of all U.S. households and 46 percent of adults aged 25–34. The Millennial age group will take the slice of nearly half of the typical first-time homebuyer market and 76 percent of all household growth, with homeowners and renters combined.
The report highlights that more individuals in their late 20's and early 30's who cannot afford to purchase a home in their mid 20's as a generation ago could. Fewer have the affluent means or enough saved up for a home down payment in order to purchase a home by the time they reach their early 30's. The good news is - the Millennial generation still believes that homeownership is a worth goal. The bad news is - many will need to wait longer till they have the means.
In a May 2, 2014 article titled "Are you listening to millennials and gen C?", Geraldine McBride, co-founder of MyWave warned: "Brands and companies that doesn't listen to the preferences of millennials and gen C are getting it wrong." "These are kids born ready to compete in this world. The mistake corporations make is they sit them in cubicles and ask them to wait 27 years before they run the corporation. These guys won't stick around 27 years, they're forming their own corporations." The article shares the same urgency as the Harvard report; we need to put the Millennial consumer in the center if we are going to have a strong future.
Urban Land Institute and the National Association of Realtors also conducted a survey on Millennial buyer patterns; 65-75% of millennials said they want to buy a single family home — which isn't as expensive for young homebuyers as some larger metros like New York. With more affordable urban living, the Twin Cities has a lot of pull for millennial buyers.
"Many Twin Cities Millennial home buyers are finding it is one thing to really want to buy a home; it is quite another to have the cash on hand or the ability to obtain a home loan needed to make it real," adds Thuening. Future trends in homeownership will depend largely on the cost and the ability of applying buyers to get financing. On the private side, a looser grip on mortgage underwriting standards should help sustain the housing market recovery.
Home Destination is a 15 year veteran residential Twin Cities Realtor who helps buyers and homeowners through the process of selling a home, with a passion to help Millennial homebuyers reach their dreams. For a complementary Minneapolis real estate seller's consultation, call 612-396-7832.