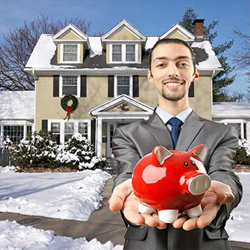 "If we had had better weather in the Midwest, we would have had a better overall number." ~ Eileen Neely, an economist with the Federal National Mortgage Corporation
Minneapolis, Twin Cities, Minnesota (PRWEB) February 14, 2014
Twin Cities home buyers are starting to stir, January median home prices marked the 23rd consecutive month of year-over-year median price gains. January Twin Cities pending home sales were as frozen as the icicles that are hanging from roof tops and remained relatively flat, according to the Minneapolis Area Association of Realtors (MAAR) February 12 news release.
"January 2014 hasn't gone by unnoticed with unseasonably stark cold weather. Twin Cities home sellers largely have the negotiating advantage with subzero temperatures influencing others to simple stay in doors and eliminate outings to view Minneapolis homes for sale", stated Jenna Thuening, owner of Home Destination.
The median sales price across the Twin Cities powered up a 12.4 percent to $179,900 this January, while.January a year ago had foreclosures and short sales make up 42.2 percent of all closed home sales. According to a MAAR January 18th video, "In January 2014, these segments made up 29.4 percent of all sales. Traditional homes are selling at a median price of $212,500; foreclosures for $130,500; short sales for $138,900".
Additional points of interest in MAAR's January housing report concerning the Twin Cities housing market include:

On average, homes spent just 93 days on the market, which is considerably shorter than last year.
Home sellers are finding they close deal at an average of 93.5 percent of their original list price, which remains at a flat pace, even with last year.
The Twin Cities housing inventory has dropped to unseen lows of 2.7 months' supply of inventory.
Homes are still affordable with interests remaining low and helping buyers get more per dollar spent.
One determining factor generating the uptick in Minneapolis metro home prices is the shrinking number of distressed property sales. Bucket together, foreclosed homes and short sales hindered Twin Cities' housing market following the recession. "Distressed sales, which accounted for about 45 percent of all sales a year ago, were 30 percent of selling activity last month. These generally are sales where more is owed on the mortgage than the house is worth", according to the January 12th Pioneer Press article January metro home sales down, but prices are up".
News on the Federal Reserve Bank of Minneapolis Community Development Project released a paper on parcel-level data to provide a block-by-block picture of the housing market in North Minneapolis. With traditional home sales rebounding across most of the Twin Cities housing market, this portion, called the Ninth Federal Reserve District, bore the brunt of the recent home foreclosure crisis. Four variables in the Housing Market Index: A Block-Level Analysis of the Housing Market in North Minneapolis include: value retention, owner occupancy, physical condition, and long-term vacancy. The report concludes that home prices improve when dwellings are well-maintained which in-turn impacts the immediate neighborhood.
"We've spent more time going over Twin Cities real estate listing in my office than normal. Clients are still willing to get out in below zero weather and look at homes, taking advantage of fewer competing buyers braving the cold. However, now that residents are gaining relief from our frozen locks and intimidating windchill, our RE/MAX office expects a nice uptick in traffic," adds Thuening.
Home Destination is a trusted Twin Cities Realtor who has helped hundreds of families throughout Minneapolis - St. Paul residential housing communities make the right housing decisions. Call and schedule a time to engage Jenna Thuening's guidance to buying a Twin Cities home. 612-396-7832.