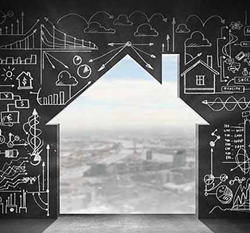 "This is an institutionalization of rental markets from a traditionally mom and pop business. It is a huge change, but a positive one." ~ Stacey Berger. Midland Loan Services VP
Twin Cities, Minnesota (PRWEB) January 29, 2014
Twin Cities home buyers are hot on the trail competing with developers to snap up homes ideal for rental income. As announced in the Star Tribune on January 8th, "the Twin Cities was the 7th tightest rental markets in the nation last month". REO rental properties have garnered much attention in recent months and can offer buyers profitable rental income, according to the latest quarterly survey of rental markets from Reis Inc.
"Many Twin Cities home buyers are seeking a deal when buying potential income properties. We are seeing the Twin Cities rental income market draw interest from all coroners," says Jenna Thuening, owner of Home Destination. "Since the Minneapolis real estate market is recovering faster than the national average, finding a bargain home to convert to a rental property is becoming more challenging."
In an article title "Is the REO-to-Rental Sector Here to Stay" Matt Scully reported on the rise in rental property vestments in the Inaugural REO-to-Rental Securitization released January 22. Glenn Coistello, senior managing direct at KrollBond Rating Agency sat on the panel and was quotes as saying: "If home prices continue to rise (12% nationally in 2013) and we assume rents do not rise alongside that, rental yields may not be as attractive to institutional investors". If 2014 proves to see lower outside inventor interest, Twin Cities homebuyers might welcome less fierce competition than experienced in 2013.
Minneapolis places ninth best on a list of the top 10 cities for developers, according to PwC, a research and advising firm that co-authored a report with ULI. "If a home sold for $90,000 and needed $10,000 of repairs, for a total cost of $100,000, and it could be rented out at $1,200 a month, or $14,400 a year. That home would be generating a gross cash-on-cash return (often referred to as a gross capitalization rate) of 14.4 percent ($14,400/$100,000)." Those profits must cover many expenses for the homeowner, including property taxes, home insurance, any homeowners' association dues, and all emergency upkeep and routine home maintenance. if the property remains vacant part of the year, an agency may charge fees to manage rents.
Additionally, owners pay fees to market the home and screen potential tenants, and tenant turnovers often include costs to repaint and replace carpet. "Let us assume these fees total $500 a month, or $6, 000 a year. Taking all these expenses into account, the property owner would be left with a net cash-on-cash return (net capitalization rate) of 8.4 percent ($8,400/$100,000), plus any property appreciation," concluded the January 17th Single-Family Securitized Financing post.
"We could see the momentous swing this direction as Twin Cities housing data reports from quarter 3 of 2013 revealed," says Thuening. "Minneapolis carries a low rental vacancy rate at 2.5%, and offers an average rent of $965 per month—8.9% greater than the overall rate in Minnesota. A very large percentage of households are renter-occupied at 43.6%, compared to the state average of 19.1%, which speaks even more to those in the rental business. Rent continues to rise at a rate close to 4%, with one-bedrooms increasing by 3% over the last six months, while two-bedrooms increased by 4% in the same period," stated Buildium on August 29, 2013 in Minnesota: 2013 Hottest US Rental Markets.
Invitation Homes, a subsidiary of the Blackstone Group and the world's largest private equity firm, spent $7.5 billion in the second half of 2012 and 2013 buying 40,000 properties for rental income, of which 1,000 of them were snapped up in the Twin Cities market. Buyers who found themselves competing with the Blackstone's cash offers were often stunned, according to a Market Place January 15th article.
Home Destination is a a trusted Twin Cities residential Realtor who has helped hundreds of buyers throughout Minneapolis - St. Paul make smart real estate buying decisions. Call Jenna Thuening for a professional guide to grow real estate assets and buy Minneapolis homes for sale. Call 612-396-7832.