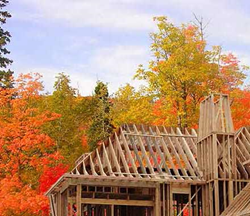 Developers worked intensely during spring and summer months in an effort to keep home builders in the Twin Cities supplied with lots suitable to meet the demand for new homes. ~ Jenna Thuening
Minneapolis, Twin Cities Minnesota (PRWEB) October 19, 2014
Home builders in the Twin Cities find the intensity building as prolonged levels of permitting are below expectations. Nationally, confidence amongst home builders slipped this month after four months of advancement which drove the indicators to the highest benchmark in nine years, according to (NAHB). However, things are looking up for home builders in the Twin Cities; this weekend the Minneapolis Home Improvement and Design Expo is stirring up excitement.
"Prospective home buyers and homeowners in the Twin Cities are pleased to see more new construction homes available to purchase. We often hear of buyers who are looking for green home features, and expect to find them in the Expo this weekend," says Jenna Thuening, owner of Home Destination. "The months' supply of all construction types is up to 6.3, perhaps tipping the Twin Cities residential housing market more in the buyer's favor."
The NAHB report showed that its index dropped to a reading of 54 after stretching to 59 in September, the highest level since November 2005 - right before real estate tumbled. Economists said the slight waning doesn't modify their projections and that new construction housing prospects endure and look promising in the future. "Historically low mortgage interest rates, steady job gains and significant pent up demand all point to continued growth of the housing market," said David Crowe, chief economist for the home builders.
New Construction of Green Residential Homes in the Twin Cities

Home Builders Activity in North Minneapolis, MN - On the north side of the Twin Cities, Green Homes North is a heavily subsidized new construction project going on. Some argue that the greenest home is the one that is already built and yet there stands a solid agreement that the City of Minneapolis continues subsidization of new construction, according to the Twin Cities Daily Planet in an Oct 16th article titled "How I would save the DEED house".
Home Builders Activity in Eden Prairie, MN - Additionally, this spring there were new green housing projects announced in Eden Prairie, MN. The plan for new constuction of green affordable housing in Eden Prairie is taking a forerunner's stance within the construction industry.
Home Builders Activity in Tonka Bay, MN - Wayzata, MN offers 15 upper bracket homes for sale at the moment that feature quality green home building. From better insulation that keeps heating and cooling costs to a minimum by building with green materials and appliances with high energy efficiency ratings.
History has proved that one of the key factors driving growth in the Twin Cities housing market recovery includes new construction. When levels of home builder activity are up, prospective homebuyers are spurred on to make purchases due to having more options to select from. Current incentives combined with historically low interest rates provide more home for per dollar spent when buying a Twin Cities home.
"U.S. homebuilders' confidence in the market for new, single-family homes surged this month to the highest level in nearly nine years. The brighter outlook reflects growing optimism that sales will increase over the next six months," according to the Pioneer Press. The September 17th article title Homebuilder Confidence Soars in September predicts new growth in home construction regardless of some ebbs and flows.
Months' supply of new construction homes in the Twin Cities according to Northstar MLS as of October 18, 2014
September - 6.3
August - 6.1
July 5.9
June 5.8
May 5.6
April 5.5
March 5.3
February 5.3
January 5.2
Months' supply of all construction types in the Twin Cities according to Northstar MLS as of October 18, 2014
September - 6.3
Ausust - 3.7
July 3.6
June 3.6
May 3.5
April 3.5
March 3.5
February 3.5
January 3.5
The Minneapolis Home Improvement and Design Expo at the Convention Center is going on this weekend. Attendees will find ideas for the home that are ideal for first time home owner who is embarking of a first home improvement project or someone ready to build their next home starting with an architect's plan. Twin Cities' top home builders, remodelers, architects, garden savvy experts, home interior decorators, and landscapers are on hand to show homeowners the latest in home design this fall. Home builders are on hand to answer questions about the latest home improvement products and services available for Twin Cities fall home renovation projects.
About Home Destination - Twin Cities Real Estate:
Home Destination offers a loyal and committed real estate professional service that personally handles all the details of selling or purchasing a Twin Cities home. Highly regarded by peers as a Minneapolis metro expert for over 15 years, gain a skilled representative as guide to make the best possible housing decisions. Helping all home buyer types, from individuals seeking to buy a newly built home to individuals moving-up to a pre-owned luxury home, Jenna Thuening has the real estate experience and acumen buyers and sellers benefit from.
Contact:
Jenna Thuening
Web. http://www.homedestination.com
Email. jenna(at)homedestination(dot)com
Tel. 612-396-7832