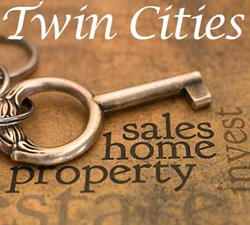 "Improving job and other economic sectors have fortified real, organic housing growth. Bargain-basement deals have given way to multiple offers, stiff bidding wars and lickety-split days on market." ~ Minneapolis Skinny
Twin Cities, MN (PRWEB) August 02, 2013
Today commercial real estate market is flourishing as well as residential single-family homes, both in the Twin Cities metro and nationally. Study results released Wednesday, July 31, 2013 by Cushman & Wakefield/NorthMarq show that property investors are coming to the Twin Cities in search of gaining higher profit margins. The result is that Twin Cities home buyers are thriving and snapping up properties ahead of higher mortgage rates.
"Twin Cities housing trends in 2013 are remarkable when both sectors are showing strong increases," says Jenna Thuening, owner of Home Destination. "The stronger our metro housing recovery, the stronger the demand grows for new real estate listings to meet buyer demand. Both residential home buyers and real estate investors in multifamily residential homes are letting it be clearly known that they want more to choose from."
The greatest portion of Quarter 1 and Quarter 2 real estate transactions were in the office, multifamily and medical office sectors, with industrial properties lagging due to limited inventory for sale. The commercial properties in highest demand include: contemporary industrial properties, grocery-anchored retail centers, multifamily, stabilized class A office buildings, and retail power centers.
Twin Cities real estate market comprises of the residential homes sector and commercial real estate. A strong first-half 2013 was seen across all aspects of the housing market as the economy continued to improve and home buyer activity significantly increased in both sectors. Market-wide, overall vacancies found in all property types declined to 12.3%, which is the lowest it has been since 2008 declined. The market recorded 1.7 million square feet of positive absorption, primarily thanks to the industrial housing market, according to a recent Twin Cities buyers report from The Compass.
Other conclusions Home Destination finds in the report include:
1) Not a ton is happening around the non-core assets and "middle-market" properties. Such properties owners are heeded to become more cognizant of investor doubts over their potential to show positive growth over the next few years. Potential Twin Cities sellers may need to adjust pricing expectations accordingly.
2) The Twin Cities land investors continue to comeback in Q1 and Q2 as new construction developers take strategic land positions in sought-after markets. Demand for properties, sale prices, and inventory levels, though low, continue improving across all categories, being the reason for increasing sales transaction numbers and rebounding property values.
3) Driven by a recovering housing market, single-family residential housing is the hottest sector in buyer demand as Twin Cities home builders aggressively acquire undeveloped lots in first-, second- and now even some third-tier communities to meet the high demand.
4) Strong and on-going optimism in the Twin Cities housing market is due to the number of development projects that are being construction or slated to yet get underway this summer going into fall. Knowing market swings, a slower second half for leasing activity is predicted. A limited number of available lots in prime locations is limiting all the property types.
Potential buyers for residential homes eager for new residential single-family home listings, the patient process of waiting for current construction projects to reach completion will be awarded in the months ahead. "New housing projects will be completed in downtown Minneapolis, downtown St. Paul, downtown Wayzata homes and Uptown. Approximately 550,000 sf of industrial space and more than 317,000 sf of medical office space is under construction," according to the report.
"Both residential home builders and commercial construction are intensely planning for continued demands for real estate properties as the second half of 2013 is deemed primed for plenty of new Twin Cities buyer activity across all property types," summarized Thuening.
Twin Cities investors and families seeking to buy residential homes in the metro area may call Home Destination at 612-396-7832.