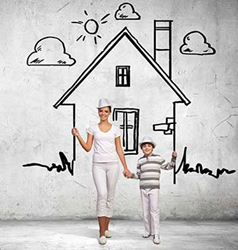 "Look for the housing market to move more into balance during the second half of the year as 2014 shapes up to be another year of solid gains and a big step toward normality in the housing market," Tousley from the University of St. Thomas
Minneapolis, Twin Cities Minnesota (PRWEB) April 23, 2014
An increase in housing inventory will be key to the Twin Cities spring home buying season, as more properties for sale should "nudge first-time home buyers to sow their fledgling seeds in the housing market and encourage move-up buyers, according to the Minneapolis Area Association of Realtors (MAAR). The number of metro home sales reflects just how few homes there are available to purchase and just why Twin Cities spring sellers are gaining top dollar.
"It's imperative to understand Twin Cities housing market activity by segment. Home buyers are favoring traditional purchases as we are seeing them comprise a greater share of the marketplace. Traditional home listings tend to be in better condition, many come with warranties, and traditional sellers tend to be more prepared in advance for the market," says Jenna Thuening, owner of Home Destination.
Twin Cities housing market summary for the month of March (source MAAR):

Median Sales Price climbed 7.6% to $190,000
New traditional listings rose 22.1 percent compared to March 2013
Days on Market till sold shortened 11.1% to 96
Percent of Original List Price Received continued at a flat pace of 95.0
Months Supply of Housing Inventory dropped to 6.1% to 3.1
Inventory of homes for sale is down 4.1% to 13,086
Foreclosure and short sale new listings fell 39.9 and 53.8 percent, respectively
A snapshot for the week ending April 12 across all Twin Cities residential communities:

New Real Estate Listings increased 19.9% to 1,925
Pending Home Sales increased 1.8% to 1,157
Inventory supply dropped an even lower 2.4% to 13,736
Home Destination has comprised a summary on Twin Cities home seller activity in March by sectors (source: The Monthly Skinny).
1. Closed Home Sales - As of March 2014 the number of closed homes sales had fallen 16.7% from March 2013 in the Twin Cities area. This is a drastic number after only a slight change of 1.9% between 2012 and 2013. The past 12 month average is at 3.7% with the numbers sharply declining in cold months.
2. Existing Home Sales - These home sales dipped down the lowest since July 2012. Nationally numbers are down 0.2%. The good news is that the Twin Cities falls into the Midwest category which saw a rise in sales in March of 4.0%.
3. New Home Sales - New home sales have taken a sharp decline of 14.5% in March. All regions in The United States have been repeatedly showing a decline in these sales. The price of a home continues to rise annually while it is becoming harder for first time home owners to receive credit to buy a house. Unusually wet March weather explains the drop in sales as construction must halt to accommodate the weather. According to David Crow "The trend downward for two months is the worrisome part. Pent up demand, relatively low mortgage rates and still good affordability support confidence that sales will improve as 2014 evolves".
"The March report and its price gains are basically good news," Herb Tousley, director of real estate studies at the University of St. Thomas told the Pioneer Press. "But more houses must be offered for sale to bring the market back into balance. You hear people talking about (receiving) multiple offers. Now, it's more of a seller's market."
The Pioneer Press summed it up accurately in an April 10th article titled Sellers winning spring Twin Cities housing market saying: "While buyers are selective, sales data show that sellers are increasingly able to capture more value when a sale closes. Twin Cities' sellers received, on average, 95 percent of their list price in March. That compares with 92.1 percent a year ago, the trade groups' data shows."
"Buying a home in the Minneapolis metro can be a adventure with the bidding winner being better prepared or better positioned due to competitive buying for fewer listings," comments Thuening. "Twin Cities home buyers begin with the intrigue of determining the advantages and disadvantages between local neighborhoods; then move into actually stepping into homes to consider, and ultimately completing the exhilarating process of closing on a home."
Contact Home Destination at 612-396-7832 to enter the Twin Cities housing market this spring.