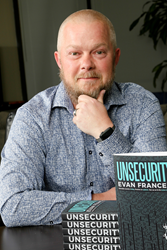 "I wrote this book because I feel strongly that the information security industry is broken. You might not think it's broken in your corner of the world, but it's broken in most,"
MINNEAPOLIS (PRWEB) February 13, 2019
Minneapolis, MN – Evan Francen, CEO/Founder of information security consulting company FRSecure, today announced the launch of his new book "Unsecurity". Drawing upon his twenty-five-year career in information security, Francen provides a frank and clear analysis of the state of the data breach-ridden and broken information security industry. The book provides realistic solutions that the industry can implement to slow down and alleviate the trillions of dollars lost and thousands of businesses destroyed.
Through his ten-chapter book, Francen identifies the most significant problems in the information security industry and point by point spells out possible solutions. Starting with the fragmentation in a common language within business and between peers, Francen addresses the communication chasm by laying out a plan based on a stable and simplified foundational fix Francen's expertise allows him to use real-world case studies as illustration of his concerns while suppling ample resources that provide immediate value and strategy for the reader. The book is sold on Amazon (https://www.amazon.com/gp/product/164343974X/ref=ox_sc_mini_detail?ie=UTF8&psc=1&smid=ATVPDKIKX0DER) and on Evan Francen's (http://www.evanfrancen.com) website.

In 2017 the US suffered 160,000 successful online attacks including five mega breaches – the most significant being the Equifax breach, in which sensitive financial date for 145 million people was stolen.
Only 33% of small and midmarket businesses think their organization can prevent a cyber-attack.
The financial costs of breaches are unfathomable – an estimated $2 trillion for 2019 and as much as $6 trillion by 2021.
"I wrote this book because I feel strongly that the information security industry is broken. You might not think it's broken in your corner of the world, but it's broken in most," said Francen. "My book explains what's broken and offers ideas about how we should fix it. If we don't do it now, the problems will only get worse. My main motivation is that I hate seeing people taken advantage of and I hate cheating. I'm calling to arms the cybersecurity engineers, cybersecurity analysts, cybersecurity managers, chief information officers, researchers, and penetration testers – we are the cybersecurity workforce and we must face up to our problems together if we're going to solve our common problems."
This book is the first in a series that Francen has planned. Each of the books identify current and future cybersecurity dangers, while providing clear solutions. "Unsecurity" is written to a target audience of his cybersecurity peers. Francen has plans for two additional books; one written for "normal" people, as he puts it, meaning those of us who aren't "experts". Normal people are in need of our help to protect their personal assets, their family's safety, and their communities. The final book in the series will be written for small to medium-sized businesses struggling with security in the absence of a simple step-by-step system that works.
Francen is the CEO/Founder of FRSecure, a leading information security consulting company based in Minnesota since 2008. In 2017, he also founded SecurityStudio, a software-as-a-service (SaaS) company dedicated to building a community of information security practitioners who speak the same security language. He coinvented FISASCORE®, the information security risk translation and assessment tool for companies. Francen has helped hundreds of businesses, small and large. He has advised legal counsel in high-profile breaches, including Target and Blue Cross Blue Shield.